It's the season for scary stories! We've pulled some heart-racing, skin-crawling horror novels from our collection to feature in this week's Hidden Gems feature.
Ghosts and clowns are terrifying–but some of the most terrifying villains are of the human kind. We've got a great mix of stories on this list–all of which will keep you up at night.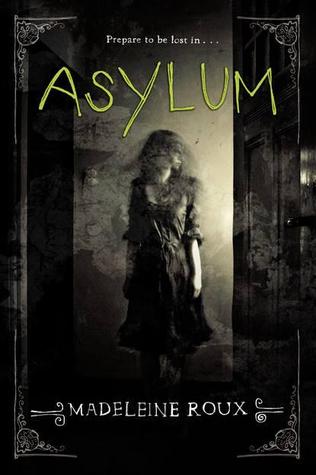 For sixteen-year-old Dan Crawford, New Hampshire College Prep is more than a summer program—it's a lifeline. An outcast at his high school, Dan is excited to finally make some friends in his last summer before college. But when he arrives at the program, Dan learns that his dorm for the summer used to be a sanatorium, more commonly known as an asylum. And not just any asylum—a last resort for the criminally insane.
As Dan and his new friends, Abby and Jordan, explore the hidden recesses of their creepy summer home, they soon discover it's no coincidence that the three of them ended up here. Because the asylum holds the key to a terrifying past. And there are some secrets that refuse to stay buried.
Featuring found photos of unsettling history and real abandoned asylums and filled with chilling mystery and page-turning suspense, Madeleine Roux's teen debut, Asylum, is a horror story that treads the line between genius and insanity.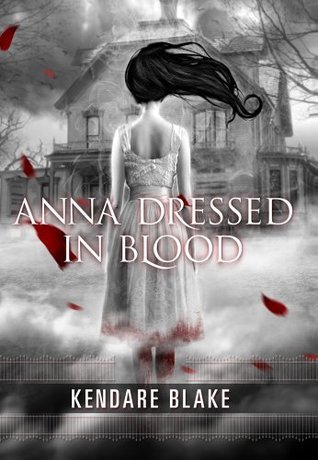 Cas Lowood has inherited an unusual vocation: He kills the dead.
So did his father before him, until he was gruesomely murdered by a ghost he sought to kill. Now, armed with his father's mysterious and deadly athame, Cas travels the country with his kitchen-witch mother and their spirit-sniffing cat. They follow legends and local lore, destroy the murderous dead, and keep pesky things like the future and friends at bay.
Searching for a ghost the locals call Anna Dressed in Blood, Cas expects the usual: track, hunt, kill. What he finds instead is a girl entangled in curses and rage, a ghost like he's never faced before. She still wears the dress she wore on the day of her brutal murder in 1958: once white, now stained red and dripping with blood. Since her death, Anna has killed any and every person who has dared to step into the deserted Victorian she used to call home.
Yet she spares Cas's life.
IT by Stephen King
Derry: a small city in Maine, a place as hauntingly familiar as your own home town. Only in Derry the haunting is real…
It began for the Losers on a day in June of 1958, the day school let out for the summer. That was the day Henry Bowers carved the first letter of his name on Ben Hanscom's belly and chased him into the Barrens, the day Henry and his Neanderthal friends beat up on Stuttering Bill Denbrough and Eddie Kaspbrak, the day Stuttering Bill had to save Eddie from his worst asthma attack ever by riding his bike to beat the devil. It ended in August, with seven desperate children in search of a creature of unspeakable evil in the drains beneath Derry. In search of It. And somehow it ended.
Or so they thought. Then.
On a spring night in 1985 Mike Hanlon, once one of those children, makes six calls. Stan Uris, accountant. Richie "Records" Tozier, L.A. disc jockey. Ben Hanscom, renowned architect. Beverly Rogan, dress designer. Eddie Kaspbrak, owner of a successful New York limousine company. And Bill Denbrough, bestselling writer of horror novels, Bill Denbrough who now only stutters in his dreams.
These six men and one woman have forgotten their childhoods,have forgotten the time when they were Losers…but an unremembered promise draws them back, the present begins to rhyme dreadfully with the past, and when the Losers reunite, the wheels of fate lock together and roll them towards the ultimate terror.
In the biggest and most ambitious book of his career, Stephen King gives us not only his most towering epic of horror but a surprising re-illumination of the corridor where we pass from the bright mysteries of childhood to those of maturity.
Patrick Bateman is handsome, well educated, intelligent. He works by day on Wall Street earning a fortune to complement the one he was born with. His nights he spends in ways we cannot begin to fathom. He is twenty-six years old and living his own American Dream.
Alexis thought she led a typically dysfunctional high school existence. Dysfunctional like her parents' marriage; her doll-crazy twelve-year-old sister, Kasey; and even her own anti-social, anti-cheerleader attitude. When a family fight results in some tearful sisterly bonding, Alexis realizes that her life is creeping from dysfunction into danger. Kasey is acting stranger than ever: her blue eyes go green sometimes; she uses old-fashioned language; and she even loses track of chunks of time, claiming to know nothing about her strange behavior. Their old house is changing, too. Doors open and close by themselves; water boils on the unlit stove; and an unplugged air conditioner turns the house cold enough to see their breath in.
Alexis wants to think that it's all in her head, but soon, what she liked to think of as silly parlor tricks are becoming life-threatening–to her, her family, and to her budding relationship with the class president. Alexis knows she's the only person who can stop Kasey — but what if that green-eyed girl isn't even Kasey anymore?
A very young woman's first job: governess for two weirdly beautiful, strangely distant, oddly silent children, Miles and Flora, at a forlorn estate… An estate haunted by a beckoning evil.
Half-seen figures who glare from dark towers and dusty windows- silent, foul phantoms who, day by day, night by night, come closer, ever closer. With growing horror, the helpless governess realizes the fiendish creatures want the children, seeking to corrupt their bodies, possess their minds, own their souls…
But worse–much worse– the governess discovers that Miles and Flora have no terror of the lurking evil.
For they want the walking dead as badly as the dead want them.
Kyle Kirby has planned a cruel and unusual revenge on Cass McBride, the most popular girl in school, for the death of his brother David. He digs a hole. Kidnaps Cass. Puts her in a box–underground. He buries her alive. But lying in the deepest dark, Cass finds a weapon: she uses the power of words to keep her nemesis talking–and herself breathing–during the most harrowing 48 hours of her life.
"The dead don't talk. I don't know why." But they do try to communicate, with a short-order cook in a small desert town serving as their reluctant confidant. Odd Thomas thinks of himself as an ordinary guy, if possessed of a certain measure of talent at the Pico Mundo Grill and rapturously in love with the most beautiful girl in the world, Stormy Llewellyn.
Maybe he has a gift, maybe it's a curse, Odd has never been sure, but he tries to do his best by the silent souls who seek him out. Sometimes they want justice, and Odd's otherworldly tips to Pico Mundo's sympathetic police chief, Wyatt Porter, can solve a crime. Occasionally they can prevent one. But this time it's different.
A mysterious man comes to town with a voracious appetite, a filing cabinet stuffed with information on the world's worst killers, and a pack of hyena-like shades following him wherever he goes. Who the man is and what he wants, not even Odd's deceased informants can tell him. His most ominous clue is a page ripped from a day-by-day calendar for August 15.
Today is August 14.
In less than twenty-four hours, Pico Mundo will awaken to a day of catastrophe. As evil coils under the searing desert sun, Odd travels through the shifting prisms of his world, struggling to avert a looming cataclysm with the aid of his soul mate and an unlikely community of allies that includes the King of Rock 'n' Roll. His account of two shattering days when past and present, fate and destiny converge is the stuff of our worst nightmares, and a testament by which to live: sanely if not safely, with courage, humor, and a full heart that even in the darkness must persevere.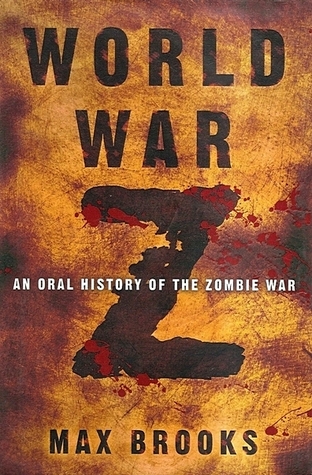 The Zombie War came unthinkably close to eradicating humanity. Max Brooks, driven by the urgency of preserving the acid-etched first-hand experiences of the survivors from those apocalyptic years, traveled across the United States of America and throughout the world, from decimated cities that once teemed with upwards of thirty million souls to the most remote and inhospitable areas of the planet. He recorded the testimony of men, women, and sometimes children who came face-to-face with the living, or at least the undead, hell of that dreadful time. "World War Z" is the result. Never before have we had access to a document that so powerfully conveys the depth of fear and horror, and also the ineradicable spirit of resistance, that gripped human society through the plague years.
Ranging from the now infamous village of New Dachang in the United Federation of China, where the epidemiological trail began with the twelve-year-old Patient Zero, to the unnamed northern forests where untold numbers sought a terrible and temporary refuge in the cold, to the United States of Southern Africa, where the Redeker Plan provided hope for humanity at an unspeakable price, to the west-of-the-Rockies redoubt where the North American tide finally started to turn, this invaluable chronicle reflects the full scope and duration of the Zombie War.
Most of all, the book captures with haunting immediacy the human dimension of this epochal event. Facing the often raw and vivid nature of these personal accounts requires a degree of courage on the part of the reader, but the effort is invaluable because, as Mr. Brooks says in his introduction, "By excluding the human factor, aren't we risking the kind of personal detachment from history that may, heaven forbid, lead us one day to repeat it? And in the end, isn't the human factor the only true difference between us and the enemy we now refer to as 'the living dead'?"
Note: Some of the numerical and factual material contained in this edition was previously published under the auspices of the United Nations Postwar Commission. Eyewitness reports from the first truly global war
The world we knew is gone. The world of commerce and frivolous necessity has been replaced by a world of survival and responsibility. An epidemic of apocalyptic proportions has swept the globe, causing the dead to rise and feed on the living. In a matter of months society has crumbled: no government, no grocery stores, no mail delivery, no cable TV. In a world ruled by the dead, the survivors are forced to finally start living.
UNWIND by Neal Shushterman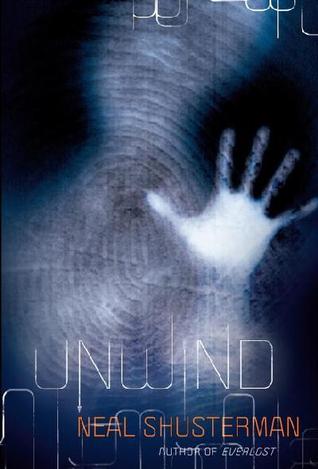 Connor, Risa, and Lev are running for their lives.
The Second Civil War was fought over reproductive rights. The chilling resolution: Life is inviolable from the moment of conception until age thirteen. Between the ages of thirteen and eighteen, however, parents can have their child "unwound," whereby all of the child's organs are transplanted into different donors, so life doesn't technically end.
Connor is too difficult for his parents to control. Risa, a ward of the state is not enough to be kept alive. And Lev is a tithe, a child conceived and raised to be unwound. Together, they may have a chance to escape and to survive.
Darren Shan and his best friend, Steve, get tickets to the Cirque Du Freak, a wonderfully gothic freak show featuring weird, frightening half human/half animals who interact terrifyingly with the audience. In the midst of the excitement, true terror raises its head when Steve recognizes that one of the performers– Mr. Crepsley– is a vampire!
Stever remains after the show finishes to confront the vampire– but his motives are surprising! In the shadows of a crumbling theater, a horrified Darren eavesdrops on his friend and the vampire, and is witness to a monstrous, disturbing plea. As if by destiny, Darren is pulled to Mr. Crepsley and what follows is his forrifying descent into the dark and bloody world of vampires.
This is Darren's story.
CLAY by David Almond
Fourteen-year-old Davie and his best friend, Geordie, are altar boys at their local Catholic Church. They're full of mischief, but that all changes when Stephen Rose comes to town. Father O'Mahoney thinks it would be a good idea for Davie and Geordie to befriend him—maybe some of their good nature will rub off on this unhappy soul. But it's Stephen who sees something special in Davie.
Stephen's a gifted sculptor. One day as Davie looks on, Stephen brings a tiny figure to life. It's a talent he has, the gift of creation—and he knows that Davie has this talent, too. Davie allows Stephen to convince him to help bring a life-size figure to life—and Clay is born. Clay is innocent, but Stephen has special plans for him.
What has Davie helped to unleash on the world?