James Dashner's THE MAZE RUNNER series is a thrilling adventure–and now a blockbuster movie. If you liked running with Thomas through the Maze, we've got some more series you'll love.
THE 5TH WAVE (The 5th Wave, #1) by Rick Yancey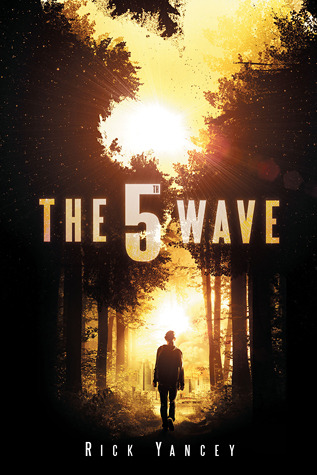 After the 1st wave, only darkness remains. After the 2nd, only the lucky escape. And after the 3rd, only the unlucky survive. After the 4th wave, only one rule applies: trust no one.
Now, it's the dawn of the 5th wave, and on a lonely stretch of highway, Cassie runs from Them. The beings who only look human, who roam the countryside killing anyone they see. Who have scattered Earth's last survivors. To stay alone is to stay alive, Cassie believes, until she meets Evan Walker.
Beguiling and mysterious, Evan Walker may be Cassie's only hope for rescuing her brother—or even saving herself. But Cassie must choose: between trust and despair, between defiance and surrender, between life and death. To give up or to get up.
WHY? They are even more terrifying that the grievers–they can be anyone, anywhere. If you loved THE MAZE RUNNER's lightning-fast pacing and dangerous monsters, then this book is for you. 
INCARCERON (Incarceron, #1) by Catherine Fisher
Incarceron — a futuristic prison, sealed from view, where the descendants of the original prisoners live in a dark world torn by rivalry and savagery. It is a terrifying mix of high technology — a living building which pervades the novel as an ever-watchful, ever-vengeful character, and a typical medieval torture chamber — chains, great halls, dungeons.
A young prisoner, Finn, has haunting visions of an earlier life, and cannot believe he was born here and has always been here. In the outer world, Claudia, daughter of the Warden of Incarceron, is trapped in her own form of prison — a futuristic world constructed beautifully to look like a past era, an imminent marriage she dreads. She knows nothing of Incarceron, except that it exists.
But there comes a moment when Finn, inside Incarceron, and Claudia, outside, simultaneously find a device — a crystal key, through which they can talk to each other. And so the plan for Finn's escape is born…
WHY? Incarceron will remind you of the Maze–but it's not as friendly. The prisoners are meaner, and Incarceron is alive. While Finn begins his escape, and Claudia looks for the truth, they'll both end up on an adventure they might not survive.
THE KNIFE OF NEVER LETTING GO (Chaos Walking, #1) by Patrick Ness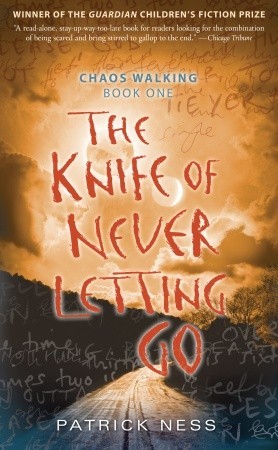 Todd Hewitt is the only boy in a town of men. Ever since the settlers were infected with the Noise germ, Todd can hear everything the men think, and they hear everything he thinks. Todd is just a month away from becoming a man, but in the midst of the cacophony, he knows that the town is hiding something from him — something so awful Todd is forced to flee with only his dog, whose simple, loyal voice he hears too. With hostile men from the town in pursuit, the two stumble upon a strange and eerily silent creature: a girl. Who is she? Why wasn't she killed by the germ like all the females on New World? Propelled by Todd's gritty narration, readers are in for a white-knuckle journey in which a boy on the cusp of manhood must unlearn everything he knows in order to figure out who he truly is.
WHY? An all-male town? Now why does that sound familiar? Unlike Thomas, Todd's not running from monsters–he's running from people he's known all his life, and the horrific knowledge hidden behind the Noise.
INSIGNIA (Insignia Trilogy, #1) by S. J. Kincaid
More than anything, Tom Raines wants to be important, though his shadowy life is anything but that. For years, Tom's drifted from casino to casino with his unlucky gambler of a dad, gaming for their survival. Keeping a roof over their heads depends on a careful combination of skill, luck, con artistry, and staying invisible.
Then one day, Tom stops being invisible. Someone's been watching his virtual-reality prowess, and he's offered the incredible—a place at the Pentagonal Spire, an elite military academy. There, Tom's instincts for combat will be put to the test, and if he passes, he'll become a member of the Intrasolar Forces, helping to lead his country to victory in World War Three. Finally, he'll be someone important: a superhuman war machine with the tech skills that every virtual-reality warrior dreams of. Life at the Spire holds everything that Tom's always wanted—friends, the possibility of a girlfriend, and a life where his every action matters—but what will it cost him?
Gripping and provocative, S. J. Kincaid's futuristic thrill ride of a debut crackles with memorable characters, tremendous wit, and a vision of the future that asks startling, timely questions about the melding of humanity and technology.
WHY? On the surface, these two books are completely different. Corporate espionage, political intrigue, and a high-tech space war–but Thomas Raines discovers there's more going on than anyone's willing to say. This story will appeal to anyone who loves snarky heroes, high stakes, and adventure. 
THE VAULT OF DREAMERS by Caragh O'Brien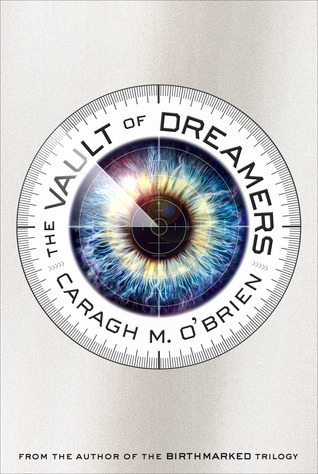 From the author of the Birthmarked trilogy comes a fast-paced, psychologically thrilling novel about what happens when your dreams are not your own.
The Forge School is the most prestigious arts school in the country. The secret to its success:  every moment of the students' lives is televised as part of the insanely popular Forge Show, and the students' schedule includes twelve hours of induced sleep meant to enhance creativity.
But when first year student Rosie Sinclair skips her sleeping pill, she discovers there is something off about Forge. In fact, she suspects that there are sinister things going on deep below the reaches of the cameras in the school. What's worse is, she starts to notice that the edges of her consciousness do not feel quite right. And soon, she unearths the ghastly secret that the Forge School is hiding—and what it truly means to dream there.
WHY? The Forge School has more in common with the Maze than you might think at first glance–a corporation messing with kids' minds? Sounds very WCKD to us. Rosie is a heroine on a mission, because there's always a price to messing with the human mind.
GONE (Gone, #1) by Michael Grant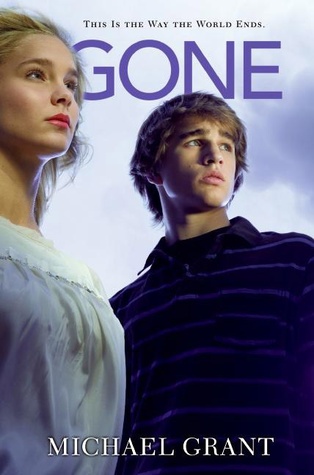 In the blink of an eye, everyone disappears. Gone. Except for the young.
There are teens, but not one single adult. Just as suddenly, there are no phones, no internet, no television. No way to get help. And no way to figure out what's happened.
Hunger threatens. Bullies rule. A sinister creature lurks. Animals are mutating. And the teens themselves are changing, developing new talents—unimaginable, dangerous, deadly powers—that grow stronger by the day. It's a terrifying new world. Sides are being chosen, a fight is shaping up. Townies against rich kids. Bullies against the weak. Powerful against powerless. And time is running out: On your birthday, you disappear just like everyone else…
WHY? A world without adults might sound utopic to some kids, but these teens quickly realize how hard it is to survive. As both humans and animals mutate, their world becomes even more brutal–until the line between human and animal blurs, and everything is just about surviving. 
UNDER THE NEVER SKY (Under the Never Sky, #1) by Veronica Rosi
Since she'd been on the outside, she'd survived an Aether storm, she'd had a knife held to her throat, and she'd seen men murdered.
This was worse.
Exiled from her home, the enclosed city of Reverie, Aria knows her chances of surviving in the outer wasteland–known as The Death Shop–are slim. If the cannibals don't get her, the violent, electrified energy storms will. She's been taught that the very air she breathes can kill her. Then Aria meets an Outsider named Perry. He's wild–a savage–and her only hope of staying alive.
A hunter for his tribe in a merciless landscape, Perry views Aria as sheltered and fragile–everything he would expect from a Dweller. But he needs Aria's help too; she alone holds the key to his redemption. Opposites in nearly every way, Aria and Perry must accept each other to survive. Their unlikely alliance forges a bond that will determine the fate of all who live under the never sky.
WHY? Aria and Perry are both keeping secrets. As their adventure begins to unravel the mystery of the Never Sky, the very foundations of their lives are yanked out from under them. If they want to stay alive–and save everyone they love–they'll have to work together. 
LEGEND (Legend Trilogy, #1) by Marie Lu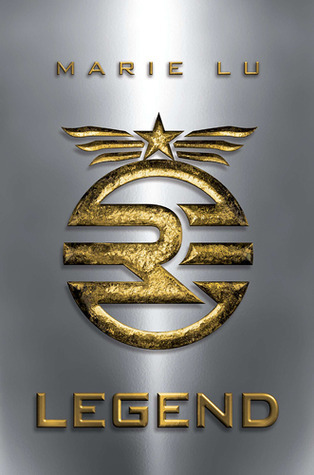 What was once the western United States is now home to the Republic, a nation perpetually at war with its neighbors. Born into an elite family in one of the Republic's wealthiest districts, fifteen-year-old June is a prodigy being groomed for success in the Republic's highest military circles. Born into the slums, fifteen-year-old Day is the country's most wanted criminal. But his motives may not be as malicious as they seem.
From very different worlds, June and Day have no reason to cross paths – until the day June's brother, Metias, is murdered and Day becomes the prime suspect. Caught in the ultimate game of cat and mouse, Day is in a race for his family's survival, while June seeks to avenge Metias's death. But in a shocking turn of events, the two uncover the truth of what has really brought them together, and the sinister lengths their country will go to keep its secrets.
WHY? The dichotomy of the slums and the opulent political sphere only highlights just how harsh the Republic can be. As June and Day uncover sinister secrets, the truth comes out. They're both trapped in a game of politics with much better players, and the only way to survive is to trust each other. Like in THE MAZE RUNNER, there's danger and high stakes–but this adventure has monsters of the human kind. 
ENCLAVE (Razorland, #1) by Ann Aguirre
New York City has been decimated by war and plague, and most of civilization has migrated to underground enclaves, where life expectancy is no more than the early 20's.
When Deuce turns 15, she takes on her role as a Huntress, and is paired with Fade, a teenage Hunter who lived Topside as a young boy. When she and Fade discover that the neighboring enclave has been decimated by the tunnel monsters – or Freaks – who seem to be growing more organized, the elders refuse to listen to warnings. And when Deuce and Fade are exiled from the enclave, the girl born in darkness must survive in daylight – guided by Fade's long-ago memories – in the ruins of a city whose population has dwindled to a few dangerous gangs.
WHY? The Enclave has some striking similarities to the Maze, but the Freaks might just be more terrifying than the grievers. Fade and Deuce will do anything to survive, which means these brave girls get into some pretty dangerous situations as they fight for the truth. 
DIVERGENT (Divergent, #1) by Veronica Roth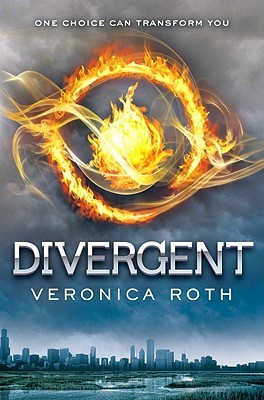 In Beatrice Prior's dystopian Chicago, society is divided into five factions, each dedicated to the cultivation of a particular virtue–Candor (the honest), Abnegation (the selfless), Dauntless (the brave), Amity (the peaceful), and Erudite (the intelligent). On an appointed day of every year, all sixteen-year-olds must select the faction to which they will devote the rest of their lives. For Beatrice, the decision is between staying with her family and being who she really is–she can't have both. So she makes a choice that surprises everyone, including herself.
During the highly competitive initiation that follows, Beatrice renames herself Tris and struggles to determine who her friends really are–and where, exactly, a romance with a sometimes fascinating, sometimes infuriating boy fits into the life she's chosen. But Tris also has a secret, one she's kept hidden from everyone because she's been warned it can mean death. And as she discovers a growing conflict that threatens to unravel her seemingly perfect society, she also learns that her secret might help her save those she loves . . . or it might destroy her.
WHY? The split society will remind readers of how work is assigned in the Glade, but it's real similarity comes from the dangers these kids face from the higher ups. WCKD wanted those kids to win, to survive–the leadership in DIVERGENT doesn't. 
THE EYE OF MINDS (The Mortality Doctrine, #1) by James Dashner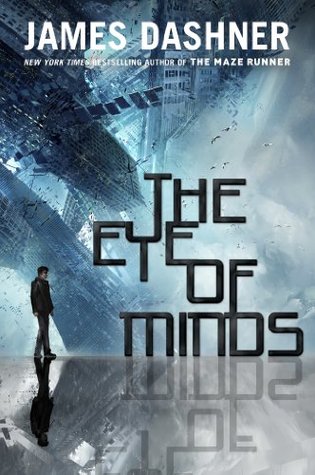 Michael is a gamer. And like most gamers, he almost spends more time on the VirtNet than in the actual world. The VirtNet offers total mind and body immersion, and it's addictive. Thanks to technology, anyone with enough money can experience fantasy worlds, risk their life without the chance of death, or just hang around with Virt-friends. And the more hacking skills you have, the more fun. Why bother following the rules when most of them are dumb, anyway?
But some rules were made for a reason. Some technology is too dangerous to fool with. And recent reports claim that one gamer is going beyond what any gamer has done before: he's holding players hostage inside the VirtNet. The effects are horrific—the hostages have all been declared brain-dead. Yet the gamer's motives are a mystery.
The government knows that to catch a hacker, you need a hacker.
And they've been watching Michael. They want him on their team.
But the risk is enormous. If he accepts their challenge, Michael will need to go off the VirtNet grid. There are back alleys and corners in the system human eyes have never seen and predators he can't even fathom—and there's the possibility that the line between game and reality will be blurred forever.
WHY? Well it stands to reason if you liked The Maze Runner, you love Dashner's other series. Besides the thrilling pace of the plot, the two series have little in common, but Michael is a great hero, and the inherent danger of VirtNet kept us turning page after page.