Want to know what your fellow Scouts are reading? Here are the most popular books of October. You guys have great taste in books.
If you see any you haven't read, come check them out! And remember, we can always place a title on hold for you.
1.  DAYS GONE BY (The Walking Dead, #1) by Robert Kirkman
The world we knew is gone. The world of commerce and frivolous necessity has been replaced by a world of survival and responsibility. An epidemic of apocalyptic proportions has swept the globe, causing the dead to rise and feed on the living. In a matter of months society has crumbled: no government, no grocery stores, no mail delivery, no cable TV. In a world ruled by the dead, the survivors are forced to finally start living.
Larson tells the stories of two men: Daniel H. Burnham, the architect responsible for the fair's construction, and H.H. Holmes, a serial killer masquerading as a charming doctor.
Burnham's challenge was immense. In a short period of time, he was forced to overcome the death of his partner and numerous other obstacles to construct the famous "White City" around which the fair was built. His efforts to complete the project, and the fair's incredible success, are skillfully related along with entertaining appearances by such notables as Buffalo Bill Cody, Susan B. Anthony, Nikola Tesla and Thomas Edison.
The activities of the sinister Dr. Holmes, who is believed to be responsible for scores of murders around the time of the fair, are equally remarkable. He devised and erected the World's Fair Hotel, complete with crematorium and gas chamber, near the fairgrounds and used the event as well as his own charismatic personality to lure victims.
3.  AFTERWORLDS by Scott Westerfeld
Darcy Patel has put college and everything else on hold to publish her teen novel, Afterworlds. Arriving in New York with no apartment or friends she wonders whether she's made the right decision until she falls in with a crowd of other seasoned and fledgling writers who take her under their wings…
Told in alternating chapters is Darcy's novel, a suspenseful thriller about Lizzie, a teen who slips into the 'Afterworld' to survive a terrorist attack. But the Afterworld is a place between the living and the dead and as Lizzie drifts between our world and that of the Afterworld, she discovers that many unsolved – and terrifying – stories need to be reconciled. And when a new threat resurfaces, Lizzie learns her special gifts may not be enough to protect those she loves and cares about most.
Though the Greek and Roman crewmembers of the Argo II have made progress in their many quests, they still seem no closer to defeating the earth mother, Gaea. Her giants have risen—all of them—and they're stronger than ever. They must be stopped before the Feast of Spes, when Gaea plans to have two demigods sacrificed in Athens. She needs their blood—the blood of Olympus—in order to wake.
The demigods are having more frequent visions of a terrible battle at Camp Half-Blood. The Roman legion from Camp Jupiter, led by Octavian, is almost within striking distance. Though it is tempting to take the Athena Parthenos to Athens to use as a secret weapon, the friends know that the huge statue belongs back on Long Island, where it "might" be able to stop a war between the two camps.
The Athena Parthenos will go west; the Argo II will go east. The gods, still suffering from multiple personality disorder, are useless. How can a handful of young demigods hope to persevere against Gaea's army of powerful giants? As dangerous as it is to head to Athens, they have no other option. They have sacrificed too much already. And if Gaea wakes, it is game over.
An all-new, edge-of-your seat adventure from James Dashner, the author of the New York Times bestselling Maze Runner series, The Eye of Mindsis the first book in The Mortality Doctrine, a series set in a world of hyperadvanced technology, cyberterrorists, and gaming beyond your wildest dreams . . . and your worst nightmares.
Michael is a gamer. And like most gamers, he almost spends more time on the VirtNet than in the actual world. The VirtNet offers total mind and body immersion, and it's addictive. Thanks to technology, anyone with enough money can experience fantasy worlds, risk their life without the chance of death, or just hang around with Virt-friends. And the more hacking skills you have, the more fun. Why bother following the rules when most of them are dumb, anyway?
But some rules were made for a reason. Some technology is too dangerous to fool with. And recent reports claim that one gamer is going beyond what any gamer has done before: he's holding players hostage inside the VirtNet. The effects are horrific—the hostages have all been declared brain-dead. Yet the gamer's motives are a mystery.
The government knows that to catch a hacker, you need a hacker.
And they've been watching Michael. They want him on their team.
But the risk is enormous. If he accepts their challenge, Michael will need to go off the VirtNet grid. There are back alleys and corners in the system human eyes have never seen and predators he can't even fathom—and there's the possibility that the line between game and reality will be blurred forever.
Second Month on the list!
protect the diamonds
survive the clubs
dig deep through the spades
feel the hearts
Ed Kennedy is an underage cabdriver without much of a future. He's pathetic at playing cards, hopelessly in love with his best friend, Audrey, and utterly devoted to his coffee-drinking dog, the Doorman. His life is one of peaceful routine and incompetence until he inadvertently stops a bank robbery.
That's when the first ace arrives in the mail.
That's when Ed becomes the messenger.
Chosen to care, he makes his way through town helping and hurting (when necessary) until only one question remains: Who's behind Ed's mission?
I do know things really began to spin out of control after my first sex dream.
It all started with a dream. Nothing exceptional, just a typical fantasy about a boy, the kind of dream that most teen girls experience. But Pattyn Von Stratten is not like most teen girls. Raised in a religious — yet abusive — family, a simple dream may not be exactly a sin, but it could be the first step toward hell and eternal damnation.
This dream is a first step for Pattyn. But is it to hell or to a better life? For the first time Pattyn starts asking questions. Questions seemingly without answers — about God, a woman's role, sex, love — mostly love. What is it? Where is it? Will she ever experience it? Is she deserving of it?
It's with a real boy that Pattyn gets into real trouble. After Pattyn's father catches her in a compromising position, events spiral out of control until Pattyn ends up suspended from school and sent to live with an aunt she doesn't know.
Pattyn is supposed to find salvation and redemption during her exile to the wilds of rural Nevada. Yet what she finds instead is love and acceptance. And for the first time she feels worthy of both — until she realizes her old demons will not let her go. Pattyn begins down a path that will lead her to a hell — a hell that may not be the one she learned about in sacrament meetings, but it is hell all the same.
In this riveting and masterful novel told in verse, Ellen Hopkins takes readers on an emotional roller-coaster ride. From the highs of true love to the lows of abuse, Pattyn's story will have readers engrossed until the very last word.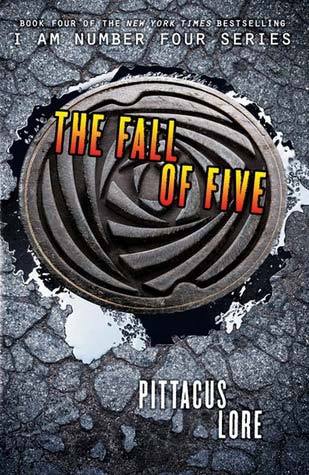 The Garde are finally reunited, but do they have what it takes to win the war against the Mogadorians?
John Smith—Number Four—thought that things would change once the Garde found each other. They would stop running. They would fight the Mogadorians. And they would win.
But he was wrong. After facing off with the Mogadorian ruler and almost being annihilated, the Garde know they are drastically unprepared and hopelessly outgunned. Now they're hiding out in Nine's Chicago penthouse, trying to figure out their next move.
The six of them are powerful, but they're not strong enough yet to take on an entire army—even with the return of an old ally. To defeat their enemy, the Garde must master their Legacies and learn to work together as a team. More importantly, they'll have to discover the truth about the Elders and their plan for the Loric survivors.
And when the Garde receive a sign from Number Five—a crop circle in the shape of a Loric symbol—they know they are so close to being reunited. But could it be a trap? Time is running out, and the only thing they know for certain is that they have to get to Five before it's too late.
The Garde may have lost battles, but they will not lose this war.
Lorien will rise again.
 Last year, Annabel was "the girl who has everything" — at least that's the part she played in the television commercial for Kopf's Department Store.
This year, she's the girl who has nothing: no best friend because mean-but-exciting Sophie dropped her, no peace at home since her older sister became anorexic, and no one to sit with at lunch. Until she meets Owen Armstrong.
Tall, dark, and music-obsessed, Owen is a reformed bad boy with a commitment to truth-telling. With Owen's help, maybe Annabel can face what happened the night she and Sophie stopped being friends.
Second Month on the List!
 Before. Miles "Pudge" Halter's whole existence has been one big nonevent, and his obsession with famous last words has only made him crave the "Great Perhaps" (François Rabelais, poet) even more. He heads off to the sometimes crazy, possibly unstable, and anything-but-boring world of Culver Creek Boarding School, and his life becomes the opposite of safe. Because down the hall is Alaska Young. The gorgeous, clever, funny, sexy, self-destructive, screwed-up, and utterly fascinating Alaska Young, who is an event unto herself. She pulls Pudge into her world, launches him into the Great Perhaps, and steals his heart.
After. Nothing is ever the same.
——-
Lost of fantastic titles on the list this month! Thanks for stopping by, and feel free to come down to the library for new reads and recommendations.