It's December, Scouts! This semester has flown by. We've got the top ten books checked out in November ready for you, and they are all phenomenal page-turners. If you're looking for something to take with you over Winter Break, you can't go wrong picking from this list.
My new friends have begun to suspect I haven't told them the full story of my life.
"Why did you leave Sierra Leone?"
"Because there is a war."
"You mean, you saw people running around with guns and shooting each other?"
"Yes, all the time."
"Cool."
I smile a little.
"You should tell us about it sometime."
"Yes, sometime."
This is how wars are fought now: by children, hopped-up on drugs and wielding AK-47s. Children have become soldiers of choice. In the more than fifty conflicts going on worldwide, it is estimated that there are some 300,000 child soldiers. Ishmael Beah used to be one of them.
What is war like through the eyes of a child soldier? How does one become a killer? How does one stop? Child soldiers have been profiled by journalists, and novelists have struggled to imagine their lives. But until now, there has not been a first-person account from someone who came through this hell and survived.
In A Long Way Gone, Beah, now twenty-five years old, tells a riveting story: how at the age of twelve, he fled attacking rebels and wandered a land rendered unrecognizable by violence. By thirteen, he'd been picked up by the government army, and Beah, at heart a gentle boy, found that he was capable of truly terrible acts.
This is a rare and mesmerizing account, told with real literary force and heartbreaking honesty.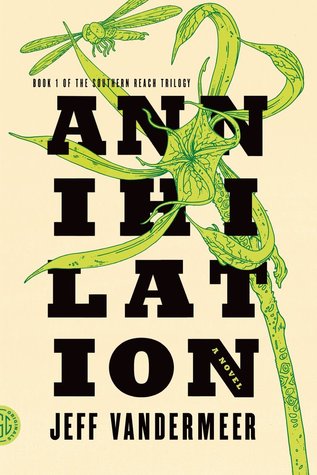 Area X has been cut off from the rest of the continent for decades. Nature has reclaimed the last vestiges of human civilization. The first expedition returned with reports of a pristine, Edenic landscape; all the members of the second expedition committed suicide; the third expedition died in a hail of gunfire as its members turned on one another; the members of the eleventh expedition returned as shadows of their former selves, and within months of their return, all had died of aggressive cancer.
This is the twelfth expedition.
Their group is made up of four women: an anthropologist; a surveyor; a psychologist, the de facto leader; and our narrator, a biologist. Their mission is to map the terrain and collect specimens; to record all their observations, scientific and otherwise, of their surroundings and of one another; and, above all, to avoid being contaminated by Area X itself.
They arrive expecting the unexpected, and Area X delivers—they discover a massive topographic anomaly and life forms that surpass understanding—but it's the surprises that came across the border with them, and the secrets the expedition members are keeping from one another, that change everything.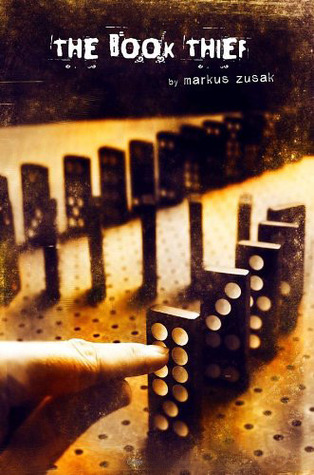 It is 1939. Nazi Germany. The country is holding its breath. Death has never been busier, and will be busier still.
By her brother's graveside, Liesel's life is changed when she picks up a single object, partially hidden in the snow. It is The Gravedigger's Handbook, left behind there by accident, and it is her first act of book thievery.
So begins a love affair with books and words, as Liesel, with the help of her accordian-playing foster father, learns to read. Soon she is stealing books from Nazi book-burnings, the mayor's wife's library, wherever there are books to be found.
But these are dangerous times. When Liesel's foster family hides a Jewish fist-fighter in their basement, Liesel's world is both opened up, and closed down.
In superbly crafted writing that burns with intensity, award-winning author Markus Zusak has given us one of the most enduring stories of our time.
At the age of nine, Finnikin is warned by the gods that he must sacrifice a pound of flesh to save his kingdom. He stands on the rock of the three wonders with his friend Prince Balthazar and Balthazar's cousin, Lucian, and together they mix their blood to safeguard Lumatere.
But all safety is shattered during the five days of the unspeakable, when the king and queen and their children are brutally murdered in the palace. An impostor seizes the throne, a curse binds all who remain inside Lumatere's walls, and those who escape are left to roam the land as exiles, dying by the thousands in fever camps.
Ten years later, Finnikin is summoned to another rock–to meet Evanjalin, a young novice with a startling claim: Balthazar, heir to the throne of Lumatere, is alive. This arrogant young woman claims she'll lead Finnikin and his mentor, Sir Topher, to the prince. Instead, her leadership points them perilously toward home. Does Finnikin dare believe that Lumatere might one day rise united? Evanjalin is not what she seems, and the startling truth will test Finnikin's faith not only in her but in all he knows to be true about himself and his destiny.
In a bold departure from her acclaimed contemporary novels, Printz Medalist Melina Marchetta has crafted an epic fantasy of ancient magic, feudal intrigue, romance, and bloodshed that will rivet you from the first page.
5.  The Help by Kathryn Stockett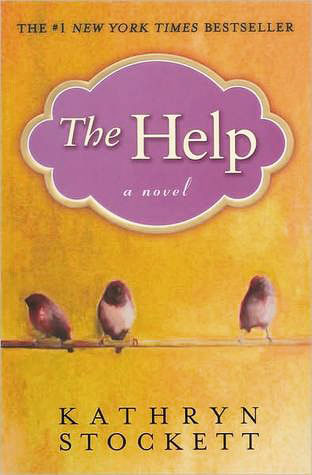 Three ordinary women are about to take one extraordinary step….
Twenty-two-year-old Skeeter has just returned home after graduating from Ole Miss. She may have a degree, but it is 1962, Mississippi, and her mother will not be happy till Skeeter has a ring on her finger. Skeeter would normally find solace with her beloved maid Constantine, the woman who raised her, but Constantine has disappeared and no one will tell Skeeter where she has gone.
Aibileen is a black maid, a wise, regal woman raising her seventeenth white child. Something has shifted inside her after the loss of her own son, who died while his bosses looked the other way. She is devoted to the little girl she looks after, though she knows both their hearts may be broken.
Minny, Aibileen's best friend, is short, fat, and perhaps the sassiest woman in Mississippi. She can cook like nobody's business, but she can't mind her tongue, so she's lost yet another job. Minny finally finds a position working for someone too new to town to know her reputation. But her new boss has secrets of her own.
Seemingly as different from one another as can be, these women will nonetheless come together for a clandestine project that will put them all at risk. And why? Because they are suffocating within the lines that define their town and their times. And sometimes lines are made to be crossed.
In April 1992 a young man from a well-to-do family hitchhiked to Alaska and walked alone into the wilderness north of Mt. McKinley. His name was Christopher Johnson McCandless. He had given $25,000 in savings to charity, abandoned his car and most of his possessions, burned all the cash in his wallet, and invented a new life for himself. Four months later, his decomposed body was found by a party of moose hunters. How McCandless came to die is the unforgettable story of Into the Wild.
Immediately after graduating from college in 1991, McCandless had roamed through the West and Southwest on a vision quest like those made by his heroes Jack London and John Muir. In the Mojave Desert he abandoned his car, stripped it of its license plates, and burned all of his cash. He would give himself a new name, Alexander Supertramp, and , unencumbered by money and belongings, he would be free to wallow in the raw, unfiltered experiences that nature presented. Craving a blank spot on the map, McCandless simply threw the maps away. Leaving behind his desperate parents and sister, he vanished into the wild.
He always knew he was different.
First there were the dreams.
Then the deaths began.
When Matt Freeman gets into trouble with the police, he's sent to be fostered in Yorkshire. It's not long before he senses there's something wrong with his guardian: with the whole village.
Then Matt learns about the Old Ones and begins to understand just how he is different. But no one will believe him; no one can help.
There is no proof. There is no logic. There is just the Gate.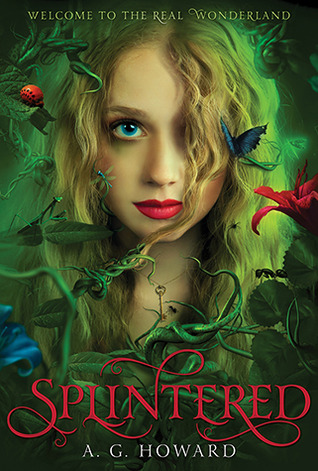 This stunning debut captures the grotesque madness of a mystical under-land, as well as a girl's pangs of first love and independence. Alyssa Gardner hears the whispers of bugs and flowers—precisely the affliction that landed her mother in a mental hospital years before. This family curse stretches back to her ancestor Alice Liddell, the real-life inspiration for Lewis Carroll's Alice's Adventures in Wonderland. Alyssa might be crazy, but she manages to keep it together. For now.
When her mother's mental health takes a turn for the worse, Alyssa learns that what she thought was fiction is based in terrifying reality. The real Wonderland is a place far darker and more twisted than Lewis Carroll ever let on. There, Alyssa must pass a series of tests, including draining an ocean of Alice's tears, waking the slumbering tea party, and subduing a vicious bandersnatch, to fix Alice's mistakes and save her family. She must also decide whom to trust: Jeb, her gorgeous best friend and secret crush, or the sexy but suspicious Morpheus, her guide through Wonderland, who may have dark motives of his own.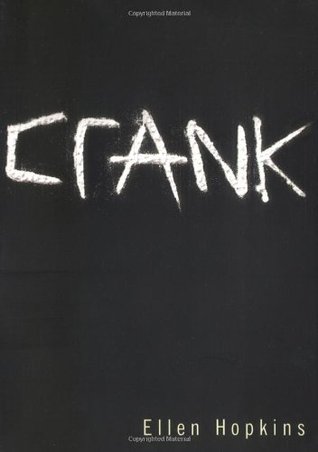 In Crank, Ellen Hopkins chronicles the turbulent and often disturbing relationship between Kristina, a character based on her own daughter, and the "monster," the highly addictive drug crystal meth, or "crank." Kristina is introduced to the drug while visiting her largely absent and ne'er-do-well father. While under the influence of the monster, Kristina discovers her sexy alter-ego, Bree: "there is no perfect daughter, / no gifted high school junior, / no Kristina Georgia Snow. / There is only Bree." Bree will do all the things good girl Kristina won't, including attracting the attention of dangerous boys who can provide her with a steady flow of crank.
Nastasya has spent the last century living as a spoiled, drugged-out party girl. She feels nothing and cares for no one. But when she witnesses her best friend, a Dark Immortal, torture a human, she realizes something's got to change. She seeks refuge at a rehab for wayward immortals, where she meets the gorgeous, undeniably sexy Reyn, who seems inexplicably linked to her past.
Nastasya finally begins to deal with life, and even feels safe–until the night she learns that someone wants her dead.
To read the library's interview with Cate, click here!