Some people wish they were born in another century–personally, I'd miss indoor plumbing. Until we develop time travel, books can take us through time anywhere we want.
We've picked some amazing historicals for this Hidden Gems segment! From the rise of Genghis Khan to nun assassins to thrilling WWII stories, this book list covers almost everything.
TEMPLAR by Jordan Mechner, Illustrated by LeUyen Pham & Alex Puvilland
Martin is one of a handful of Templar Knights to escape when the king of France and the pope conspire to destroy the noble order. The pope and king aim to frame the Templars for heresy, execute all of them, and make off with their legendary treasure. That's the plan, anyway, but Martin and several other surviving knights mount a counter-campaign to regain the lost treasure of the Knights Templar.
A thirteen-year-old Welsh boy enters a man's world in the mining pits; an American law student rejected by love finds a surprising new career in Woodrow Wilson's White House; a housekeeper for the aristocratic Fitzherberts takes a fateful step above her station, while Lady Maud Fitzherbert herself crosses deep into forbidden territory when she falls in love with a German spy; and two orphaned Russian brothers embark on radically different paths when their plan to emigrate to America falls afoul of war, conscription, and revolution.
From the dirt and danger of a coal mine to the glittering chandeliers of a palace, from the corridors of power to the bedrooms of the mighty, Fall of Giants takes readers into the inextricably entangled fates of five families-and into a century that we thought we knew, but that now will never seem the same again.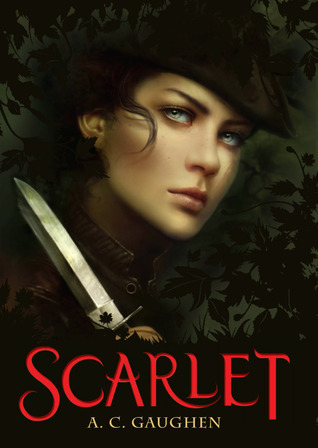 Many readers know the tale of Robin Hood, but they will be swept away by this new version full of action, secrets, and romance.
Posing as one of Robin Hood's thieves to avoid the wrath of the evil Thief Taker Lord Gisbourne, Scarlet has kept her identity secret from all of Nottinghamshire. Only the Hood and his band know the truth: the agile thief posing as a whip of a boy is actually a fearless young woman with a secret past. Helping the people of Nottingham outwit the corrupt Sheriff of Nottingham could cost Scarlet her life as Gisbourne closes in.
It's only her fierce loyalty to Robin—whose quick smiles and sharp temper have the rare power to unsettle her—that keeps Scarlet going and makes this fight worth dying for.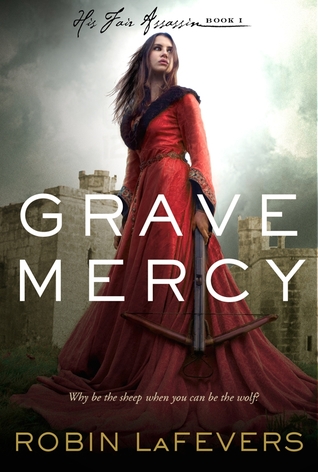 Why be the sheep, when you can be the wolf?
Seventeen-year-old Ismae escapes from the brutality of an arranged marriage into the sanctuary of the convent of St. Mortain, where the sisters still serve the gods of old. Here she learns that the god of Death Himself has blessed her with dangerous gifts—and a violent destiny. If she chooses to stay at the convent, she will be trained as an assassin and serve as a handmaiden to Death. To claim her new life, she must destroy the lives of others.
Ismae's most important assignment takes her straight into the high court of Brittany—where she finds herself woefully under prepared—not only for the deadly games of intrigue and treason, but for the impossible choices she must make. For how can she deliver Death's vengeance upon a target who, against her will, has stolen her heart?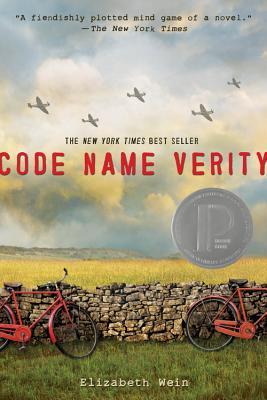 Oct. 11th, 1943-A British spy plane crashes in Nazi-occupied France. Its pilot and passenger are best friends. One of the girls has a chance at survival. The other has lost the game before it's barely begun.
When "Verity" is arrested by the Gestapo, she's sure she doesn't stand a chance. As a secret agent captured in enemy territory, she's living a spy's worst nightmare. Her Nazi interrogators give her a simple choice: reveal her mission or face a grisly execution.
As she intricately weaves her confession, Verity uncovers her past, how she became friends with the pilot Maddie, and why she left Maddie in the wrecked fuselage of their plane. On each new scrap of paper, Verity battles for her life, confronting her views on courage, failure and her desperate hope to make it home. But will trading her secrets be enough to save her from the enemy?
A Michael L. Printz Award Honor book that was called "a fiendishly-plotted mind game of a novel" in The New York Times, Code Name Verity is a visceral read of danger, resolve, and survival that shows just how far true friends will go to save each other.
THE HELP by Kathryn Stockett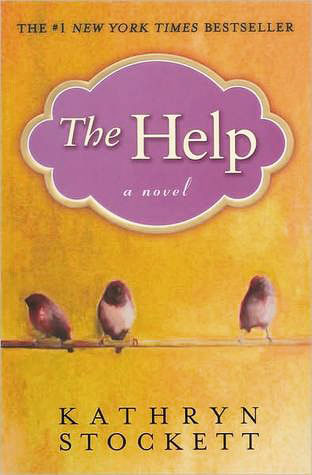 Three ordinary women are about to take one extraordinary step….
Twenty-two-year-old Skeeter has just returned home after graduating from Ole Miss. She may have a degree, but it is 1962, Mississippi, and her mother will not be happy till Skeeter has a ring on her finger. Skeeter would normally find solace with her beloved maid Constantine, the woman who raised her, but Constantine has disappeared and no one will tell Skeeter where she has gone.
Aibileen is a black maid, a wise, regal woman raising her seventeenth white child. Something has shifted inside her after the loss of her own son, who died while his bosses looked the other way. She is devoted to the little girl she looks after, though she knows both their hearts may be broken.
Minny, Aibileen's best friend, is short, fat, and perhaps the sassiest woman in Mississippi. She can cook like nobody's business, but she can't mind her tongue, so she's lost yet another job. Minny finally finds a position working for someone too new to town to know her reputation. But her new boss has secrets of her own.
Seemingly as different from one another as can be, these women will nonetheless come together for a clandestine project that will put them all at risk. And why? Because they are suffocating within the lines that define their town and their times. And sometimes lines are made to be crossed.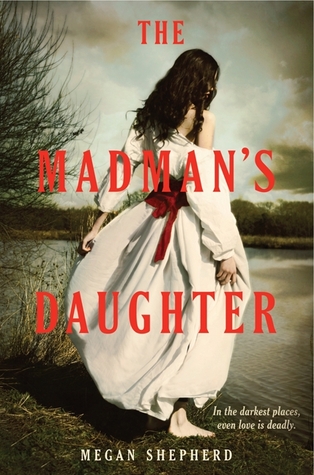 Sixteen-year-old Juliet Moreau has built a life for herself in London—working as a maid, attending church on Sundays, and trying not to think about the scandal that ruined her life. After all, no one ever proved the rumors about her father's gruesome experiments. But when she learns he is alive and continuing his work on a remote tropical island, she is determined to find out if the accusations are true.
Accompanied by her father's handsome young assistant, Montgomery, and an enigmatic castaway, Edward—both of whom she is deeply drawn to—Juliet travels to the island, only to discover the depths of her father's madness: He has experimented on animals so that they resemble, speak, and behave as humans. And worse, one of the creatures has turned violent and is killing the island's inhabitants. Torn between horror and scientific curiosity, Juliet knows she must end her father's dangerous experiments and escape her jungle prison before it's too late. Yet as the island falls into chaos, she discovers the extent of her father's genius—and madness—in her own blood.
Inspired by H. G. Wells's classic The Island of Dr. Moreau, The Madman's Daughter is a dark and breathless Gothic thriller about the secrets we'll do anything to know and the truths we'll go to any lengths to protect.
Speaking to us with the wisdom of age and in a voice at once haunting and startlingly immediate, Nitta Sayuri tells the story of her life as a geisha. It begins in a poor fishing village in 1929, when, as a nine-year-old girl with unusual blue-gray eyes, she is taken from her home and sold into slavery to a renowned geisha house. We witness her transformation as she learns the rigorous arts of the geisha: dance and music; wearing kimono, elaborate makeup, and hair; pouring sake to reveal just a touch of inner wrist; competing with a jealous rival for men's solicitude and the money that goes with it.
In Memoirs of a Geisha, we enter a world where appearances are paramount; where a girl's virginity is auctioned to the highest bidder; where women are trained to beguile the most powerful men; and where love is scorned as illusion. It is a unique and triumphant work of fiction—at once romantic, erotic, suspenseful—and completely unforgettable.
Dark myths, medieval secrets, intrigue, and romance populate the pages of the first-ever teen series from #1 bestselling author of The Other Boleyn Girl.
Italy, 1453. Seventeen-year-old Luca Vero is brilliant, gorgeous—and accused of heresy. Cast out of his religious order for using the new science to question old superstitious beliefs, Luca is recruited into a secret sect: The Order of the Dragon, commissioned by Pope Nicholas V to investigate evil and danger in its many forms, and strange occurrences across Europe, in this year—the end of days.
Isolde is a seventeen-year-old girl shut up in a nunnery so she can't inherit any of her father's estate. As the nuns walk in their sleep and see strange visions, Isolde is accused of witchcraft—and Luca is sent to investigate her, but finds himself plotting her escape.
Despite their vows, despite themselves, love grows between Luca and Isolde as they travel across Europe with their faithful companions, Freize and Ishraq. The four young people encounter werewolves, alchemists, witches, and death-dancers as they head toward a real-life historical figure who holds the boundaries of Christendom and the secrets of the Order of the Dragon.
Orphaned, penniless, Jacob Jankowski jumps a freight train in the dark, and in that instant, transforms his future.
By morning, he's landed a job with the Flying Squadron of the Benzini Brothers Most Spectacular Show on Earth. By nightfall, he's in love.
In an America made colourless by prohibition and the Depression, the circus is a refuge of sequins and sensuality. But behind the glamour lies a darker world, where both animals and men are dispensable. Where falling in love is the most dangerous act of all…
In the middle years of the ninth-century, the fierce Danes stormed onto British soil, hungry for spoils and conquest. Kingdom after kingdom fell to the ruthless invaders until but one realm remained. And suddenly the fate of all England—and the course of history—depended upon one man, one king.
From New York Times bestselling storyteller Bernard Cornwell comes a rousing epic adventure of courage, treachery, duty, devotion, majesty, love, and battle as seen through the eyes of a young warrior who straddled two worlds.
Life as a ship's boy aboard HMS Dolphin is a dream come true for Jacky Faber. Gone are the days of scavenging for food and fighting for survival on the streets of eighteenth-century London. Instead, Jacky is becoming a skilled and respected sailor as the crew pursues pirates on the high seas.
There's only one problem: Jacky is a girl. And she will have to use every bit of her spirit, wit, and courage to keep the crew from discovering her secret. This could be the adventure of her life–if only she doesn't get caught. . . .
The year is 1929. New York is ruled by the Bright Young Things: Flappers and socialites seeking thrills and chasing dreams in the anything-goes era of the Roaring Twenties.
Letty Larkspur and Cordelia Grey escaped their small Midwestern town for New York's glittering metropolis. All Letty wants is to see her name in lights, but she quickly discovers Manhattan is filled with pretty girls who will do anything to be a star….
Cordelia is searching for the father she's never known, a man as infamous for his wild parties as he is for his shadowy schemes. Overnight, she enters a world more thrilling and glamorous than she ever could have imagined — and more dangerous. It's a life anyone would kill for…and someone will.
The only person Cordelia can trust is ­Astrid Donal, a flapper who seems to have it all: money, looks, and the love of Cordelia's brother, Charlie. But Astrid's perfect veneer hides a score of family secrets.
Across the vast lawns of Long Island, in the ­illicit speakeasies of Manhattan, and on the blindingly lit stages of Broadway, the three girls' fortunes will rise and fall — together and apart. From the New York Timesbestselling author of THE LUXE comes an epic new series set in the dizzying last summer of the Jazz Age.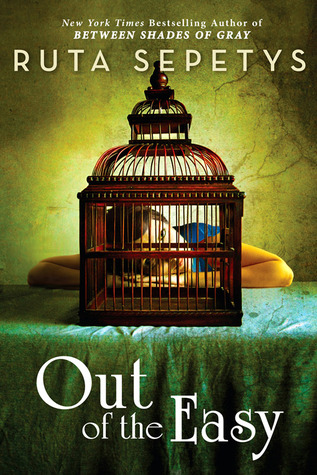 It's 1950, and as the French Quarter of New Orleans simmers with secrets, seventeen-year-old Josie Moraine is silently stirring a pot of her own. Known among locals as the daughter of a brothel prostitute, Josie wants more out of life than the Big Easy has to offer.
She devises a plan get out, but a mysterious death in the Quarter leaves Josie tangled in an investigation that will challenge her allegiance to her mother, her conscience, and Willie Woodley, the brusque madam on Conti Street. Josie is caught between the dream of an elite college and a clandestine underworld. New Orleans lures her in her quest for truth, dangling temptation at every turn, and escalating to the ultimate test.
With characters as captivating as those in her internationally bestselling novel Between Shades of Gray, Ruta Sepetys skillfully creates a rich story of secrets, lies, and the haunting reminder that decisions can shape our destiny.
He was born Temujin, the son of a khan, raised in a clan of hunters migrating across the rugged steppe. Temujin's young life was shaped by a series of brutal acts: the betrayal of his father by a neighboring tribe and the abandonment of his entire family, cruelly left to die on the harsh plain. But Temujin endured–and from that moment on, he was driven by a singular fury: to survive in the face of death, to kill before being killed, and to conquer enemies who could come without warning from beyond the horizon.
Through a series of courageous raids against the Tartars, Temujin's legend grew. And so did the challenges he faced–from the machinations of a Chinese ambassador to the brutal abduction of his young wife, Borte. Blessed with ferocious courage, it was the young warrior's ability to learn, to imagine, and to judge the hearts of others that propelled him to greater and greater power. Until Temujin was chasing a vision: to unite many tribes into one, to make the earth tremble under the hoofbeats of a thousand warhorses, to subject unknown nations and even empires to his will.