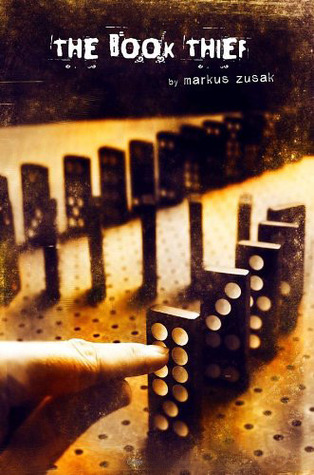 Let's get one thing clear–there are no books like The Book Thief.
Death is the perfect narrator, Lisel is an amazing heroine, and her story is unlike any other. But there are other phenomenal, engrossing books out there you'll like if you enjoyed The Book Thief.
Oct. 11th, 1943-A British spy plane crashes in Nazi-occupied France. Its pilot and passenger are best friends. One of the girls has a chance at survival. The other has lost the game before it's barely begun.
When "Verity" is arrested by the Gestapo, she's sure she doesn't stand a chance. As a secret agent captured in enemy territory, she's living a spy's worst nightmare. Her Nazi interrogators give her a simple choice: reveal her mission or face a grisly execution.
As she intricately weaves her confession, Verity uncovers her past, how she became friends with the pilot Maddie, and why she left Maddie in the wrecked fuselage of their plane. On each new scrap of paper, Verity battles for her life, confronting her views on courage, failure and her desperate hope to make it home. But will trading her secrets be enough to save her from the enemy?
A Michael L. Printz Award Honor book that was called "a fiendishly-plotted mind game of a novel" in The New York Times, Code Name Verity is a visceral read of danger, resolve, and survival that shows just how far true friends will go to save each other.
WHY? Verity will do anything to keep from being tortured–hand over classified information, reveal military depots, crack codes, but first she has to explain how she got into the service, and that means talking about her best friend Maddie and that means buying time. This story is all intricate plot, trembling emotions, and best friends, with the same WWII backdrop as The Book Thief. 
I'm dreaming of the boy in the tree. I tell him stories. About the Jellicoe School and the Townies and the Cadets from a school in Sydney. I tell him about the war between us for territory. And I tell him about Hannah, who lives in the unfinished house by the river. Hannah, who is too young to be hiding away from the world. Hannah, who found me on the Jellicoe Road six years ago.
Taylor is leader of the boarders at the Jellicoe School. She has to keep the upper hand in the territory wars and deal with Jonah Griggs – the enigmatic leader of the cadets, and someone she thought she would never see again.
And now Hannah, the person Taylor had come to rely on, has disappeared. Taylor's only clue is a manuscript about five kids who lived in Jellicoe eighteen years ago. She needs to find out more, but this means confronting her own story, making sense of her strange, recurring dream, and finding her mother – who abandoned her on the Jellicoe Road.
WHY? This novel is brilliantly compelling, with characters you can love and hate from all different perspectives and a mystery that weaves everything together. Taylor's narrative isn't as peaceful as Death's, but her voice will strike you just the same.
Every Day by David Leviathan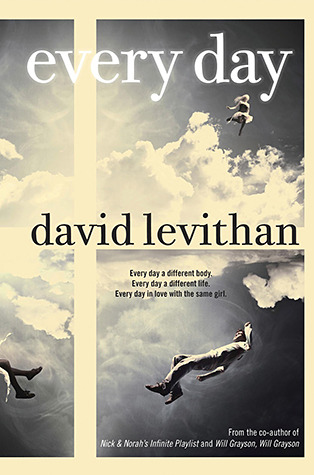 Every day a different body. Every day a different life. Every day in love with the same girl.
There's never any warning about where it will be or who it will be. A has made peace with that, even established guidelines by which to live: Never get too attached. Avoid being noticed. Do not interfere.
It's all fine until the morning that A wakes up in the body of Justin and meets Justin's girlfriend, Rhiannon. From that moment, the rules by which A has been living no longer apply. Because finally A has found someone he wants to be with—day in, day out, day after day.
With his new novel, David Levithan has pushed himself to new creative heights. He has written a captivating story that will fascinate readers as they begin to comprehend the complexities of life and love in A's world, as A and Rhiannon seek to discover if you can truly love someone who is destined to change every day.
WHY? Every Day explores friendship, gender, life, death, love, and all the things that really matter. It's touching characters work their way into your heart.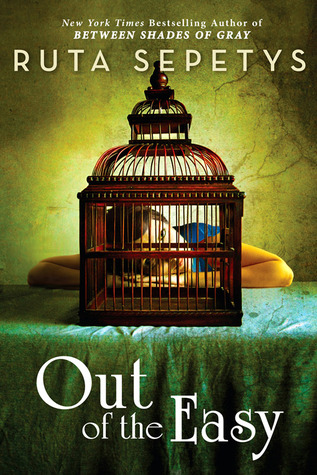 It's 1950, and as the French Quarter of New Orleans simmers with secrets, seventeen-year-old Josie Moraine is silently stirring a pot of her own. Known among locals as the daughter of a brothel prostitute, Josie wants more out of life than the Big Easy has to offer.
She devises a plan to get out, but a mysterious death in the Quarter leaves Josie tangled in an investigation that will challenge her allegiance to her mother, her conscience, and Willie Woodley, the brusque madam on Conti Street. Josie is caught between the dream of an elite college and a clandestine underworld. New Orleans lures her in her quest for truth, dangling temptation at every turn, and escalating to the ultimate test.
With characters as captivating as those in her internationally bestselling novel Between Shades of Gray, Ruta Sepetys skillfully creates a rich story of secrets, lies, and the haunting reminder that decisions can shape our destiny.
WHY? Josie is clever, winsome, and college is an impossible dream she's determined to achieve. When the murderof a tourist threatens to keep her in the world of mobsters and prostitutes she's desperate to escape, Josie has to find a way to take control of her life. Like The Book Thief, the plot of Out of the Easy is built up around vivid characters, and will entrench you in Josie's world.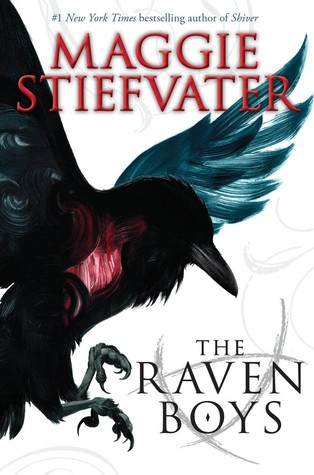 "There are only two reasons a non-seer would see a spirit on St. Mark's Eve," Neeve said. "Either you're his true love . . . or you killed him."
It is freezing in the churchyard, even before the dead arrive.
Every year, Blue Sargent stands next to her clairvoyant mother as the soon-to-be dead walk past. Blue herself never sees them—not until this year, when a boy emerges from the dark and speaks directly to her.
His name is Gansey, and Blue soon discovers that he is a rich student at Aglionby, the local private school. Blue has a policy of staying away from Aglionby boys. Known as Raven Boys, they can only mean trouble.
But Blue is drawn to Gansey, in a way she can't entirely explain. He has it all—family money, good looks, devoted friends—but he's looking for much more than that. He is on a quest that has encompassed three other Raven Boys: Adam, the scholarship student who resents all the privilege around him; Ronan, the fierce soul who ranges from anger to despair; and Noah, the taciturn watcher of the four, who notices many things but says very little.
For as long as she can remember, Blue has been warned that she will cause her true love to die. She never thought this would be a problem. But now, as her life becomes caught up in the strange and sinister world of the Raven Boys, she's not so sure anymore.
From Maggie Stiefvater, the bestselling and acclaimed author of the Shiver trilogy and The Scorpio Races, comes a spellbinding new series where the inevitability of death and the nature of love lead us to a place we've never been before.
WHY? This haunting world will appeal to readers who liked Death as the narrator of The Book Thief, while the large cast of unique, mostly-loveable characters brings the mythology and adventure to life. Like The Book Thief, The Raven Boys is unlike any other novel you've read.