It's time for another Like, Try, Why! We're almost two months into school, which means many of you will be on the hunt for new Reading Workshop books soon.
With the release of WINTER right around the corner, you might be in the mood to try some of the sci-fis on our shelves.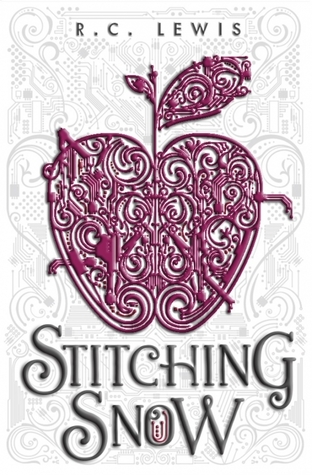 Princess Snow is missing.
Her home planet is filled with violence and corruption at the hands of King Matthias and his wife as they attempt to punish her captors. The king will stop at nothing to get his beloved daughter back—but that's assuming she wants to return at all.
Essie has grown used to being cold. Temperatures on the planet Thanda are always sub-zero, and she fills her days with coding and repairs for the seven loyal drones that run the local mines.
When a mysterious young man named Dane crash-lands near her home, Essie agrees to help the pilot repair his ship. But soon she realizes that Dane's arrival was far from accidental, and she's pulled into the heart of a war she's risked everything to avoid. With the galaxy's future—and her own—in jeopardy, Essie must choose who to trust in a fiery fight for survival.
Why? Well, it's dystopian, like Cinder–mechanically oriented, like Cinder–a missing princess, like Cinder–except this book and it's companion Spinning Starlight are both standalones! No long wait for the sequels, which after the last the years waiting for the Lunar Chronicles, is a relief!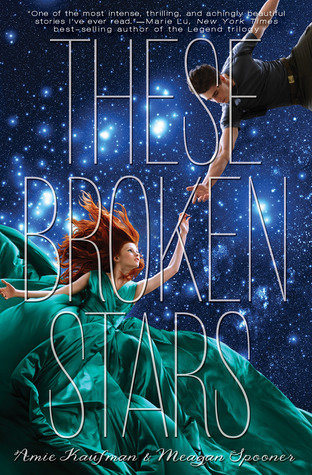 It's a night like any other on board the Icarus. Then, catastrophe strikes: the massive luxury spaceliner is yanked out of hyperspace and plummets into the nearest planet. Lilac LaRoux and Tarver Merendsen survive. And they seem to be alone.
Lilac is the daughter of the richest man in the universe. Tarver comes from nothing, a young war hero who learned long ago that girls like Lilac are more trouble than they're worth. But with only each other to rely on, Lilac and Tarver must work together, making a tortuous journey across the eerie, deserted terrain to seek help.
Then, against all odds, Lilac and Tarver find a strange blessing in the tragedy that has thrown them into each other's arms. Without the hope of a future together in their own world, they begin to wonder—would they be better off staying here forever?
Everything changes when they uncover the truth behind the chilling whispers that haunt their every step. Lilac and Tarver may find a way off this planet. But they won't be the same people who landed on it.
WHY? Told in alternating, sarcastic points-of-view, this survival story has a strong heroine (with great, if painful, heels), a gruff hero (with very handy military skills), and a planet-wide conspiracy (with terrible consequences) that will keep you glued to the pages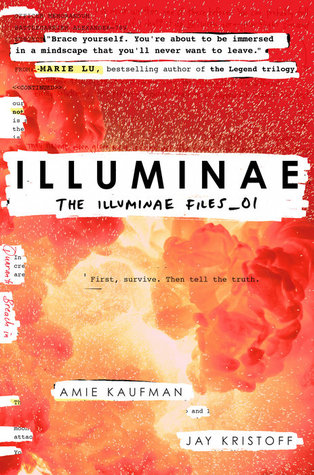 This morning, Kady thought breaking up with Ezra was the hardest thing she'd have to do.
This afternoon, her planet was invaded.
The year is 2575, and two rival megacorporations are at war over a planet that's little more than an ice-covered speck at the edge of the universe. Too bad nobody thought to warn the people living on it. With enemy fire raining down on them, Kady and Ezra—who are barely even talking to each other—are forced to fight their way onto an evacuating fleet, with an enemy warship in hot pursuit.
But their problems are just getting started. A deadly plague has broken out and is mutating, with terrifying results; the fleet's AI, which should be protecting them, may actually be their enemy; and nobody in charge will say what's really going on. As Kady hacks into a tangled web of data to find the truth, it's clear only one person can help her bring it all to light: the ex-boyfriend she swore she'd never speak to again.
Told through a fascinating dossier of hacked documents—including emails, schematics, military files, IMs, medical reports, interviews, and more—Illuminae is the first book in a heart-stopping, high-octane trilogy about lives interrupted, the price of truth, and the courage of everyday heroes.
WHY? This novel is a funny, wild ride, and hands down one of the best books of 2015–romance is a great subplot, because Ezra and Kady are too busy trying to save the fleet to get mushy.
Jarra is stuck on Earth while the rest of humanity portals around the universe. But can she prove to the norms that she's more than just an Earth Girl?
2788. Only the handicapped live on Earth. While everyone else portals between worlds, 18-year-old Jarra is among the one in a thousand people born with an immune system that cannot survive on other planets. Sent to Earth at birth to save her life, she has been abandoned by her parents. She can't travel to other worlds, but she can watch their vids, and she knows all the jokes they make. She's an 'ape', a 'throwback', but this is one ape girl who won't give in.
Jarra invents a fake background for herself – as a normal child of Military parents – and joins a class of norms that is on Earth to excavate the ruins of the old cities. When an ancient skyscraper collapses, burying another research team, Jarra's role in their rescue puts her in the spotlight. No hiding at back of class now. To make life more complicated, she finds herself falling in love with one of her classmates – a norm from another planet. Somehow, she has to keep the deception going.
A freak solar storm strikes the atmosphere, and the class is ordered to portal off-world for safety – no problem for a real child of military parents, but fatal for Jarra. The storm is so bad that the crews of the orbiting solar arrays have to escape to planet below: the first landing from space in 600 years. And one is on collision course with their shelter.
WHY? Jarra's second-class citizenship status will remind readers a lot of how Cinder is treated on Earth, but instead of going to the moon, Jarra's determined to travel the universe, no matter what restrictions her immune system tries to inflict on her. She's heroic, hilarious, and relatable–even for those of us who only suffer from seasonal allergies, not planetary ones.
Six days ago, astronaut Mark Watney became one of the first people to walk on Mars.
Now, he's sure he'll be the first person to die there.
After a dust storm nearly kills him & forces his crew to evacuate while thinking him dead, Mark finds himself stranded and completely alone with no way to even signal Earth that he's alive—and even if he could get word out, his supplies would be gone long before a rescue could arrive. Chances are, though, he won't have time to starve to death. The damaged machinery, unforgiving environment or plain-old "human error" are much more likely to kill him first.
But Mark isn't ready to give up yet. Drawing on his ingenuity, his engineering skills—& a relentless, dogged refusal to quit—he steadfastly confronts one seemingly insurmountable obstacle after the next. Will his resourcefulness be enough to overcome the impossible odds against him?
WHY? This book appeals to the nerd in all of us, and Mark Whatney–self-proclaimed King of Mars–sciences everything in his Martian Habitat to survive the long four years to rescue. This survival story will have you on the edge of your seat as NASA and Mark struggle to get a plan together.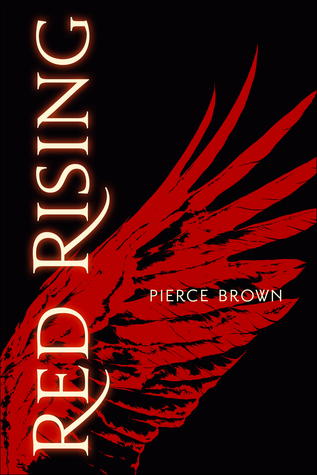 The Earth is dying. Darrow is a Red, a miner in the interior of Mars. His mission is to extract enough precious elements to one day tame the surface of the planet and allow humans to live on it. The Reds are humanity's last hope.
Or so it appears, until the day Darrow discovers it's all a lie. That Mars has been habitable – and inhabited – for generations, by a class of people calling themselves the Golds. A class of people who look down on Darrow and his fellows as slave labour, to be exploited and worked to death without a second thought.
Until the day that Darrow, with the help of a mysterious group of rebels, disguises himself as a Gold and infiltrates their command school, intent on taking down his oppressors from the inside. But the command school is a battlefield – and Darrow isn't the only student with an agenda.
WHY? Another dystopian class war, but unlike the Lunar Chronicles which takes three books to start a rebellion, Red Rising gets your hackles up right off the bat, with the execution of his family and his discovery that everything they died for was a lie. Intense, thrilling, Darrow's adventure touches on how humans can help and exploit each other for personal gain.