Only a few more days before break, Scouts! We hope you've picked out some books to take with you over break, but if not stop on in for a recommendation or two.
Our blog post today is about our favorite mythology retellings!
The Goddess War begins in Antigoddess, the first installment of the new series by acclaimed author of Anna Dressed in Blood, Kendare Blake.
Old Gods never die…
Or so Athena thought. But then the feathers started sprouting beneath her skin, invading her lungs like a strange cancer, and Hermes showed up with a fever eating away his flesh. So much for living a quiet eternity in perpetual health.
Desperately seeking the cause of their slow, miserable deaths, Athena and Hermes travel the world, gathering allies and discovering enemies both new and old. Their search leads them to Cassandra—an ordinary girl who was once an extraordinary prophetess, protected and loved by a god.
These days, Cassandra doesn't involve herself in the business of gods—in fact, she doesn't even know they exist. But she could be the key in a war that is only just beginning.
Because Hera, the queen of the gods, has aligned herself with other of the ancient Olympians, who are killing off rivals in an attempt to prolong their own lives. But these anti-gods have become corrupted in their desperation to survive, horrific caricatures of their former glory. Athena will need every advantage she can get, because immortals don't just flicker out.
Every one of them dies in their own way. Some choke on feathers. Others become monsters. All of them rage against their last breath.
The Goddess War is about to begin.
Fans of Neil Gaiman's "American Gods" and Holly Black's "The Curse Workers" will embrace this richly drawn, Norse-mythology-infused alternate world: the United States of Asgard.
Seventeen-year-old Soren Bearskin is trying to escape the past. His father, a famed warrior, lost himself to the battle-frenzy and killed thirteen innocent people. Soren cannot deny that berserking is in his blood–the fevers, insomnia, and occasional feelings of uncontrollable rage haunt him. So he tries to remain calm and detached from everyone at Sanctus Sigurd's Academy. But that's hard to do when a popular, beautiful girl like Astrid Glyn tells Soren she dreams of him. That's not all Astrid dreams of–the daughter of a renowned prophetess, Astrid is coming into her own inherited abilities.
When Baldur, son of Odin and one of the most popular gods in the country, goes missing, Astrid sees where he is and convinces Soren to join her on a road trip that will take them to find not only a lost god, but also who they are beyond the legacy of their parents and everything they've been told they have to be.
Greece in the age of heroes. Patroclus, an awkward young prince, has been exiled to the court of King Peleus and his perfect son Achilles. Despite their difference, Achilles befriends the shamed prince, and as they grow into young men skilled in the arts of war and medicine, their bond blossoms into something deeper – despite the displeasure of Achilles' mother Thetis, a cruel sea goddess.
But when word comes that Helen of Sparta has been kidnapped, Achilles must go to war in distant Troy and fulfill his destiny. Torn between love and fear for his friend, Patroclus goes with him, little knowing that the years that follow will test everything they hold dear.
The hero of this vivid & exciting novel is Theseus, a prince of ancient Athens. Taken as a slave to the island of Crete, he's condemned to certain death as a bull dancer. But he abducts the sensuous Princess Ariadne & makes a daring escape. Brave, aggressive, tough, proud & highly sexed, Theseus faces danger after danger & overcomes them all. His adventures take him into a world of primitive orgies, sparkling jewels & gleaming bodies–& with Theseus you will live thru the hot fights & swift, passionate loves of pagan times.
Riordan's newest novel has one of the most gorgeous covers I've ever seen, and is all about the Norse gods and the World Tree. Packed with a diverse new cast and cameos from our favorite characters, this book feels like a throwback to the original Percy Jackson series. Honestly, all Riordan's series are packed with amazing mythology Ancient Greece, Rome, Egypt, and now archaic Scandinavia.
Chaos of Stars by Kiersten White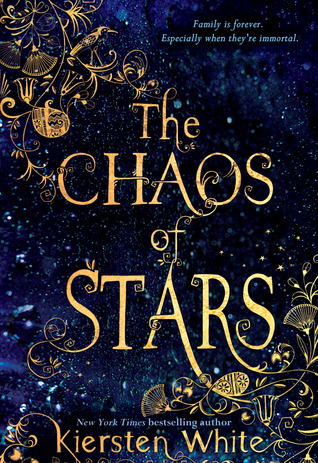 Kiersten White, New York Times bestselling author of Paranormalcy, is back with The Chaos of Stars—an enchanting novel set in Egypt and San Diego that captures the magic of first love and the eternally complicated truth about family.
Isadora's family is seriously screwed up—which comes with the territory when you're the human daughter of the ancient Egyptian gods Isis and Osiris. Isadora is tired of living with crazy relatives who think she's only worthy of a passing glance—so when she gets the chance to move to California with her brother, she jumps on it. But her new life comes with plenty of its own dramatic—and dangerous—complications . . . and Isadora quickly learns there's no such thing as a clean break from family.
Blending Ally Carter's humor and the romance of Cynthia Hand's Unearthly, The Chaos of Stars takes readers on an unforgettable journey halfway across the world and back, and proves there's no place like home.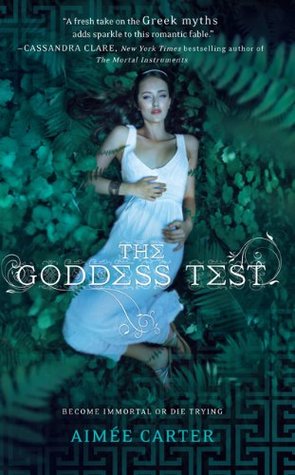 Every girl who had taken the test has died.
Now it's Kate's turn.
It's always been just Kate and her mom – and her mother is dying. Her last wish? To move back to her childhood home. So Kate's going to start at a new school with no friends, no other family and the fear that her mother won't live past the fall.
Then she meets Henry. Dark. Tortured. And mesmerizing. He claims to be Hades, god of the Underworld – and if she accepts his bargain, he'll keep her mother alive while Kate tries to pass seven tests.
Kate is sure he's crazy – until she sees him bring a girl back from the dead. Now saving her mother seems crazily possible. If she succeeds, she'll become Henry's future bride and a goddess.
If she fails…
How do you defy destiny?
Helen Hamilton has spent her entire sixteen years trying to hide how different she is—no easy task on an island as small and sheltered as Nantucket. And it's getting harder. Nightmares of a desperate desert journey have Helen waking parched, only to find her sheets damaged by dirt and dust. At school she's haunted by hallucinations of three women weeping tears of blood . . . and when Helen first crosses paths with Lucas Delos, she has no way of knowing they're destined to play the leading roles in a tragedy the Fates insist on repeating throughout history.
As Helen unlocks the secrets of her ancestry, she realizes that some myths are more than just legend. But even demigod powers might not be enough to defy the forces that are both drawing her and Lucas together—and trying to tear them apart.