That's right, we have an author coming to LFHS!
Susan Dennard is the New York Times Bestselling author of Truthwitch, the first installment in the Witchlands series, and the Something Strange and Deadly Trilogy.
Want a chance to work with a bestselling author on your writing? After an auditorium presentation 3rd period, she'll be doing creative writing workshops for English classes! Be sure to talk to your teacher about signing up.
Stay tuned for her official itinerary.
More about the books!
On a continent ruled by three empires, some are born with a "witchery", a magical skill that sets them apart from others.
In the Witchlands, there are almost as many types of magic as there are ways to get in trouble—as two desperate young women know all too well.
Safiya is a Truthwitch, able to discern truth from lie. It's a powerful magic that many would kill to have on their side, especially amongst the nobility to which Safi was born. So Safi must keep her gift hidden, lest she be used as a pawn in the struggle between empires.
Iseult, a Threadwitch, can see the invisible ties that bind and entangle the lives around her—but she cannot see the bonds that touch her own heart. Her unlikely friendship with Safi has taken her from life as an outcast into one of reckless adventure, where she is a cool, wary balance to Safi's hotheaded impulsiveness.
Safi and Iseult just want to be free to live their own lives, but war is coming to the Witchlands. With the help of the cunning Prince Merik (a Windwitch and ship's captain) and the hindrance of a Bloodwitch bent on revenge, the friends must fight emperors, princes, and mercenaries alike, who will stop at nothing to get their hands on a Truthwitch.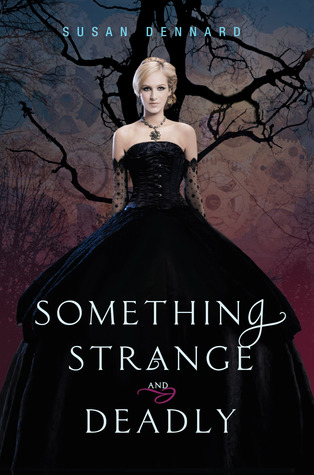 There's something strange and deadly loose in Philadelphia. . . .
Eleanor Fitt has a lot to worry about.
Her brother has gone missing, her family has fallen on hard times, and her mother is determined to marry her off to any rich young man who walks by. But this is nothing compared to what she's just read in the newspaper:
The Dead are rising in Philadelphia.
And then, in a frightening attack, a zombie delivers a letter to Eleanor . . . from her brother.
Whoever is controlling the Dead army has taken her brother as well. If Eleanor is going to find him, she'll have to venture into the lab of the notorious Spirit-Hunters, who protect the city from supernatural forces. But as Eleanor spends more time with the Spirit-Hunters, including the maddeningly stubborn yet handsome Daniel, the situation becomes dire. And now, not only is her reputation on the line, but her very life may hang in the balance.