Happy June, Scouts! You know what that means–it's time for another Top Ten round up. This batch is an eclectic bunch of great titles–some of which have even turned into award winners since you checked them out!
Just when seventeen-year-old Matt thinks he can't handle one more piece of terrible news, he meets a girl who's dealt with a lot more—and who just might be able to clue him in on how to rise up when life keeps knocking him down—in this wry, gritty novel from the author of When I Was the Greatest.
Matt wears a black suit every day. No, not because his mom died—although she did, and it sucks. But he wears the suit for his gig at the local funeral home, which pays way better than the Cluck Bucket, and he needs the income since his dad can't handle the bills (or anything, really) on his own. So while Dad's snagging bottles of whiskey, Matt's snagging fifteen bucks an hour. Not bad. But everything else? Not good. Then Matt meets Lovey. She's got a crazy name, and she's been through more crazy than he can imagine. Yet Lovey never cries. She's tough. Really tough. Tough in the way Matt wishes he could be. Which is maybe why he's drawn to her, and definitely why he can't seem to shake her. Because there's nothing more hopeful than finding a person who understands your loneliness—and who can maybe even help take it away.
Fifteen years ago, a murder-suicide in room 712 rocked the grand old Bellweather Hotel and the young bridesmaid who witnessed it, Minnie Graves. Now hundreds of high school musicians have gathered at the Bellweather for the annual Statewide festival; Minnie has returned to face her demons; and a blizzard is threatening to trap them all inside. When a young prodigy disappears from infamous room 712, the search for her entwines an eccentric cast of conductors and caretakers, teenagers on the verge and adults haunted by memories. A genre-bending page-turner, full of playful nods to pop-culture classics from The Shining to Agatha Christie to Glee, Bellweather Rhapsody is a winning new novel from a writer to watch.
In this lyrical, heartwrenching story about a forbidden first love, a teen seeks the courage to care for another girl despite her small town's bigotry and her father's violent threats.
Growing up in conservative small-town New Mexico, fifteen-year-old Mara was never given the choice to be different. Her parents—an abusive, close-minded father and a detached alcoholic mother—raised Mara to be like all the other girls in Barnaby: God-fearing, churchgoing, and straight. Mara wants nothing to do with any of it. She feels most at home with her best friend and older brother, Iggy, but Iggy hasn't been the same since their father beat him and put him in the hospital with a concussion.
As Mara's mother feeds her denial with bourbon and Iggy struggles with his own demons, Mara finds an escape with her classmate Xylia. A San Francisco transplant, Xylia is everything Mara dreams of being: free-spirited, open, wild. The closer Mara and Xylia become, the more Mara feels for her—even though their growing relationship is very much forbidden in Barnaby. Just as Mara begins to live a life she's only imagined, the girls' secret is threatened with exposure and Mara's world is thrown into chaos.
Mara knows she can't live without Xylia, but can she live with an entire town who believes she is an abomination worse than the gravest sin?
Kraków, 1939. A million marching soldiers and a thousand barking dogs. This is no place to grow up. Anna Łania is just seven years old when the Germans take her father, a linguistics professor, during their purge of intellectuals in Poland. She's alone.
And then Anna meets the Swallow Man. He is a mystery, strange and tall, a skilled deceiver with more than a little magic up his sleeve. And when the soldiers in the streets look at him, they see what he wants them to see.
The Swallow Man is not Anna's father—she knows that very well—but she also knows that, like her father, he's in danger of being taken, and like her father, he has a gift for languages: Polish, Russian, German, Yiddish, even Bird. When he summons a bright, beautiful swallow down to his hand to stop her from crying, Anna is entranced. She follows him into the wilderness.
Over the course of their travels together, Anna and the Swallow Man will dodge bombs, tame soldiers, and even, despite their better judgment, make a friend. But in a world gone mad, everything can prove dangerous. Even the Swallow Man.
A rare meteorite struck Alex Woods when he was ten years old, leaving scars and marking him for an extraordinary future. The son of a fortune teller, bookish, and an easy target for bullies, Alex hasn't had the easiest childhood.
But when he meets curmudgeonly widower Mr. Peterson, he finds an unlikely friend. Someone who teaches him that that you only get one shot at life. That you have to make it count.
So when, aged seventeen, Alex is stopped at customs with 113 grams of marijuana, an urn full of ashes on the front seat, and an entire nation in uproar, he's fairly sure he's done the right thing…
Introducing a bright young voice destined to charm the world, The Universe Versus Alex Woods is a celebration of curious incidents, astronomy and astrology, the works of Kurt Vonnegut and the unexpected connections that form our world.
5. ROOM by Emma Donoghue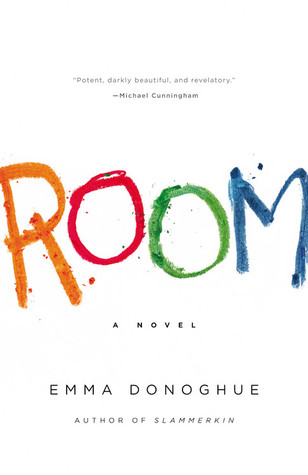 To five-year-old Jack, Room is the entire world. It is where he was born and grew up; it's where he lives with his Ma as they learn and read and eat and sleep and play. At night, his Ma shuts him safely in the wardrobe, where he is meant to be asleep when Old Nick visits.
Room is home to Jack, but to Ma, it is the prison where Old Nick has held her captive for seven years. Through determination, ingenuity, and fierce motherly love, Ma has created a life for Jack. But she knows it's not enough…not for her or for him. She devises a bold escape plan, one that relies on her young son's bravery and a lot of luck. What she does not realize is just how unprepared she is for the plan to actually work.
Told entirely in the language of the energetic, pragmatic five-year-old Jack, Room is a celebration of resilience and the limitless bond between parent and child, a brilliantly executed novel about what it means to journey from one world to another.
Seventeen-year-old Cassie is a natural at reading people. Piecing together the tiniest details, she can tell you who you are and what you want. But it's not a skill that she's ever taken seriously. That is, until the FBI come knocking: they've begun a classified program that uses exceptional teenagers to crack infamous cold cases, and they need Cassie.
What Cassie doesn't realize is that there's more at risk than a few unsolved homicides—especially when she's sent to live with a group of teens whose gifts are as unusual as her own. Sarcastic, privileged Michael has a knack for reading emotions, which he uses to get inside Cassie's head—and under her skin. Brooding Dean shares Cassie's gift for profiling, but keeps her at arm's length.
Soon, it becomes clear that no one in the Naturals program is what they seem. And when a new killer strikes, danger looms closer than Cassie could ever have imagined. Caught in a lethal game of cat and mouse with a killer, the Naturals are going to have to use all of their gifts just to survive.
The Great Recession has shuffled Clay Jannon away from life as a San Francisco web-design drone and into the aisles of Mr. Penumbra's 24-Hour Bookstore. But after a few days on the job, Clay discovers that the store is more curious than either its name or its gnomic owner might suggest. The customers are few, and they never seem to buy anything—instead, they "check out" large, obscure volumes from strange corners of the store. Suspicious, Clay engineers an analysis of the clientele's behavior, seeking help from his variously talented friends. But when they bring their findings to Mr. Penumbra, they discover the bookstore's secrets extend far beyond its walls. Rendered with irresistible brio and dazzling intelligence, Robin Sloan's Mr. Penumbra's 24-Hour Bookstore is exactly what it sounds like: an establishment you have to enter and will never want to leave.
Summers span decades. Winter can last a lifetime. And the struggle for the Iron Throne has begun.
As Warden of the north, Lord Eddard Stark counts it a curse when King Robert bestows on him the office of the Hand. His honour weighs him down at court where a true man does what he will, not what he must … and a dead enemy is a thing of beauty.
The old gods have no power in the south, Stark's family is split and there is treachery at court. Worse, the vengeance-mad heir of the deposed Dragon King has grown to maturity in exile in the Free Cities. He claims the Iron Throne.
Emmy's best friend, Oliver, reappears after being kidnapped by his father ten years ago. Emmy hopes to pick up their relationship right where it left off. Are they destined to be together? Or has fate irreparably driven them apart?
Emmy just wants to be in charge of her own life.
She wants to stay out late, surf her favorite beach—go anywhere without her parents' relentless worrying. But Emmy's parents can't seem to let her grow up—not since the day Oliver disappeared.
Oliver needs a moment to figure out his heart.
He'd thought, all these years, that his dad was the good guy. He never knew that it was his father who kidnapped him and kept him on the run. Discovering it, and finding himself returned to his old hometown, all at once, has his heart racing and his thoughts swirling.
Emmy and Oliver were going to be best friends forever, or maybe even more, before their futures were ripped apart. In Emmy's soul, despite the space and time between them, their connection has never been severed. But is their story still written in the stars? Or are their hearts like the pieces of two different puzzles—impossible to fit together?