It's time for another What We're Reading! It's always fun to talk about what we've picked up, and we're read a lot of good books since November. Right now, we're reading epic fantasy, historicals, and some magical realism.
MRS. GRIGG IS READING…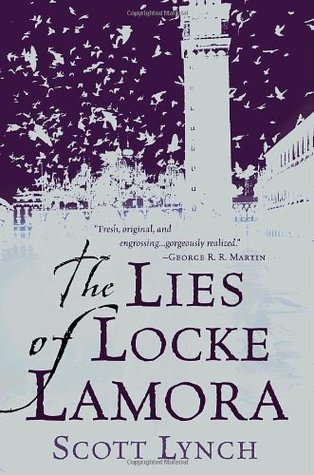 The Lies of Locke Lamora (Gentleman Bastards, #1) by Scott Lynch
In this stunning debut, author Scott Lynch delivers the wonderfully thrilling tale of an audacious criminal and his band of confidence tricksters. Set in a fantastic city pulsing with the lives of decadent nobles and daring thieves, here is a story of adventure, loyalty, and survival that is one part "Robin Hood", one part Ocean's Eleven, and entirely enthralling…
An orphan's life is harsh — and often short — in the island city of Camorr, built on the ruins of a mysterious alien race. But born with a quick wit and a gift for thieving, Locke Lamora has dodged both death and slavery, only to fall into the hands of an eyeless priest known as Chains — a man who is neither blind nor a priest.
A con artist of extraordinary talent, Chains passes his skills on to his carefully selected "family" of orphans — a group known as the Gentlemen Bastards. Under his tutelage, Locke grows to lead the Bastards, delightedly pulling off one outrageous confidence game after another. Soon he is infamous as the Thorn of Camorr, and no wealthy noble is safe from his sting.
Passing themselves off as petty thieves, the brilliant Locke and his tightly knit band of light-fingered brothers have fooled even the criminal underworld's most feared ruler, Capa Barsavi. But there is someone in the shadows more powerful — and more ambitious — than Locke has yet imagined.
Known as the Gray King, he is slowly killing Capa Barsavi's most trusted men — and using Locke as a pawn in his plot to take control of Camorr's underworld. With a bloody coup under way threatening to destroy everyone and everything that holds meaning in his mercenary life, Locke vows to beat the Gray King at his own brutal game — or die trying…
Mrs. Grigg says, "This book was recommended to me by a student last year and all I remember him saying, besides that he really loved the series, was "band of master thieves," "magic," "Renaissance Italy." That's all I needed to hear 😉 I just started this one but already I can tell I'll like it. So far I would describe it as gritty and good!"
MS. NEAL JUST FINISHED…
The Name of the Wind (The Kingkiller Chronicles, #1) by Patrick Rothfuss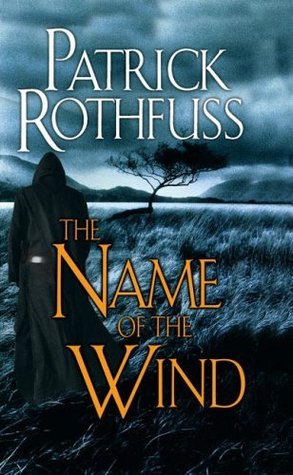 My name is Kvothe.
I have stolen princesses back from sleeping barrow kings. I burned down the town of Trebon. I have spent the night with Felurian and left wit hboth my sanity and my life. I was expelled from the University at a younger age than most people are allowed in. I tread paths by moonlight that others fear to speak of during the day. I have talked to Gods, loved women, and written songs that make minstrels weep. 
You may have heard of me. 
Told in Kvothe's own voice, this is the tale of the magically gifted young man who grows to be the most notorious wizard his world has ever seen. The intimate narrative of his childhood in a troupe of traveling players, his years spent as a near-feral orphan in a crime-ridden city, his daringly brazen yet successful bid to enter a legendary school of magic, and his life as a fugitive after the murder of a king form a gripping coming-of-age story unrivaled in recent literature. A high-action story written with a poet's hand, The Name of the Wind is a masterpiece that will transport readers into the body and mind of a wizard.
Ms. Neal says, "Though slow to start, The Name of the Wind kept me reading–800 pages in a day! The poetic style, brilliant characters, and the immaculate worldbuilding had me falling in love with fantasy all over again." 
MS. BARRON JUST FINISHED…
Beneath the Marble Sky by John Shors
Journey to dazzling seventeenth-century Hindustan, where the reigning emperor, consumed with grief over the tragic death of his beloved wife, commissioned the building of a grand mausoleum as a testament to the marvel of their love. This monument would soon become known as the Taj Mahal—a sight famous around the world for its beauty and the emotions it symbolizes.
Princess Jahanara, the courageous daughter of the emperor and his wife, recounts their mesmerizing tale, while sharing her own parallel story of forbidden love with the celebrated architect of the Taj Mahal. Set during a time of unimaginable wealth and power, murderous sibling rivalries, and cruel despotism, this impressive novel sweeps you away to a historical Hindustan brimming with action and intrigue in an era when, alongside the brutalities of war and oppression, architecture and the art of love and passion reached a pinnacle of perfection.
Ms. Barron says,  "I recently finished reading Beneath a Marble Sky by John Shors.  It was recommended by Ms. Herzog after she learned of my life-long wish to visit the Taj Mahal.  It is a wonderful fictionalized account of the building of the Taj Mahal, with court intrigue and romance aplenty."
MS. PAUSCH JUST FINISHED…
Bel Canto by Ann Patchett
In an unnamed South American country, a world-renowned soprano sings at a birthday party in honor of a visiting Japanese industrial titan. His hosts hope that Mr. Hosokawa can be persuaded to build a factory in their Third World backwater. Alas, in the opening sequence, just as the accompanist kisses the soprano, a ragtag band of 18 terrorists enters the vice-presidential mansion through the air conditioning ducts. Their quarry is the president, who has unfortunately stayed home to watch a favorite soap opera. And thus, from the beginning, things go awry.
Among the hostages are not only Hosokawa and Roxane Coss, the American soprano, but an assortment of Russian, Italian, and French diplomatic types. Reuben Iglesias, the diminutive and gracious vice president, quickly gets sideways of the kidnappers, who have no interest in him whatsoever. Meanwhile, a Swiss Red Cross negotiator named Joachim Messner is roped into service while vacationing. He comes and goes, wrangling over terms and demands, and the days stretch into weeks, the weeks into months.
With the omniscience of magic realism, Ann Patchett flits in and out of the hearts and psyches of hostage and terrorist alike, and in doing so reveals a profound, shared humanity. Her voice is suitably lyrical, melodic, full of warmth and compassion.
Ms. Pausch says, "Bel Canto is a beautiful account of love, crisis, and music that takes place during a coup in an unnamed Latin American vice president's home. The vivid, diverse cast of characters and lyrical prose drew me in and kept me riveted right to the end."
MRS. HERZOG IS READING…
The Paris Architect by Charles Belfoure
Like most gentiles in Nazi-occupied Paris, architect Lucien Bernard has little empathy for the Jews. So when a wealthy industrialist offers him a large sum of money to devise secret hiding places for Jews, Lucien struggles with the choice of risking his life for a cause he doesn't really believe in. Ultimately he can't resist the challenge and begins designing expertly concealed hiding spaces—behind a painting, within a column, or inside a drainpipe—detecting possibilities invisible to the average eye. But when one of his clever hiding spaces fails horribly and the immense suffering of Jews becomes incredibly personal, he can no longer deny reality.
Written by an expert whose knowledge imbues every page, this story becomes more gripping with every life the architect tries to save.
Mrs. Herzog can be found reading her favorite…historical fiction!  She is currently reading The Paris Architect, a novel set in German occupied Paris in 1942. Lucien Bernard, an up-and-coming architect is challenged to accept a commission that will bring him a great deal of much needed money, however it is dangerous enough to get him killed.