From Fairy Tales to King Arthur to Alice in Wonderland, there are some stories that can be retold again and again and again.
We have a lot of retelling's hidden in the library, under fantasy, under historical, under contemporary fiction. They don't have a genre of their own, so there's a good chance you missed some of these page-turners!
High in his attic bedroom, twelve-year-old David mourns the death of his mother, with only the books on his shelf for company. But those books have begun to whisper to him in the darkness. Angry and alone, he takes refuge in his imagination and soon finds that reality and fantasy have begun to meld. While his family falls apart around him, David is violently propelled into a world that is a strange reflection of his own — populated by heroes and monsters and ruled by a faded king who keeps his secrets in a mysterious book, The Book of Lost Things.
Taking readers on a vivid journey through the loss of innocence into adulthood and beyond, New York Times bestselling author John Connolly tells a dark and compelling tale that reminds us of the enduring power of stories in our lives.
Scarlet by A. C. Gaughen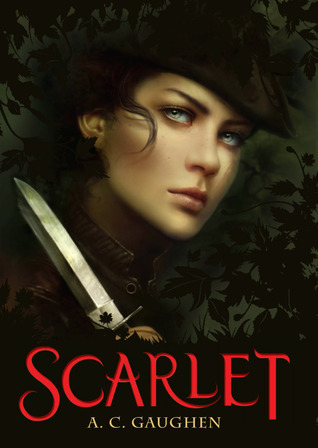 Many readers know the tale of Robin Hood, but they will be swept away by this new version full of action, secrets, and romance.
Posing as one of Robin Hood's thieves to avoid the wrath of the evil Thief Taker Lord Gisbourne, Scarlet has kept her identity secret from all of Nottinghamshire. Only the Hood and his band know the truth: the agile thief posing as a whip of a boy is actually a fearless young woman with a secret past. Helping the people of Nottingham outwit the corrupt Sheriff of Nottingham could cost Scarlet her life as Gisbourne closes in.
It's only her fierce loyalty to Robin—whose quick smiles and sharp temper have the rare power to unsettle her—that keeps Scarlet going and makes this fight worth dying for.