James Dashner's THE MAZE RUNNER series is a thrilling adventure–and now a blockbuster movie. If you liked running with Thomas through the Maze, we've got some more series you'll love.
THE 5TH WAVE (The 5th Wave, #1) by Rick Yancey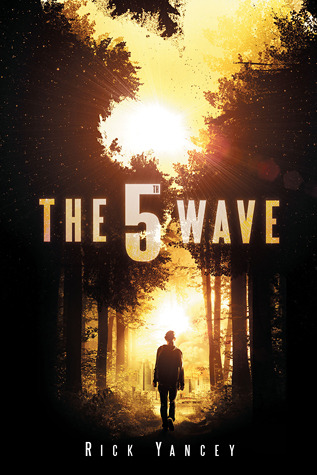 After the 1st wave, only darkness remains. After the 2nd, only the lucky escape. And after the 3rd, only the unlucky survive. After the 4th wave, only one rule applies: trust no one.
Now, it's the dawn of the 5th wave, and on a lonely stretch of highway, Cassie runs from Them. The beings who only look human, who roam the countryside killing anyone they see. Who have scattered Earth's last survivors. To stay alone is to stay alive, Cassie believes, until she meets Evan Walker.
Beguiling and mysterious, Evan Walker may be Cassie's only hope for rescuing her brother—or even saving herself. But Cassie must choose: between trust and despair, between defiance and surrender, between life and death. To give up or to get up.
WHY? They are even more terrifying that the grievers–they can be anyone, anywhere. If you loved THE MAZE RUNNER's lightning-fast pacing and dangerous monsters, then this book is for you. 
INCARCERON (Incarceron, #1) by Catherine Fisher
Incarceron — a futuristic prison, sealed from view, where the descendants of the original prisoners live in a dark world torn by rivalry and savagery. It is a terrifying mix of high technology — a living building which pervades the novel as an ever-watchful, ever-vengeful character, and a typical medieval torture chamber — chains, great halls, dungeons.
A young prisoner, Finn, has haunting visions of an earlier life, and cannot believe he was born here and has always been here. In the outer world, Claudia, daughter of the Warden of Incarceron, is trapped in her own form of prison — a futuristic world constructed beautifully to look like a past era, an imminent marriage she dreads. She knows nothing of Incarceron, except that it exists.
But there comes a moment when Finn, inside Incarceron, and Claudia, outside, simultaneously find a device — a crystal key, through which they can talk to each other. And so the plan for Finn's escape is born…
WHY? Incarceron will remind you of the Maze–but it's not as friendly. The prisoners are meaner, and Incarceron is alive. While Finn begins his escape, and Claudia looks for the truth, they'll both end up on an adventure they might not survive.
THE KNIFE OF NEVER LETTING GO (Chaos Walking, #1) by Patrick Ness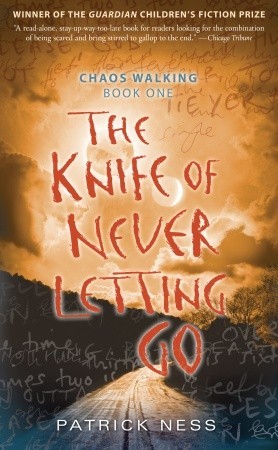 Todd Hewitt is the only boy in a town of men. Ever since the settlers were infected with the Noise germ, Todd can hear everything the men think, and they hear everything he thinks. Todd is just a month away from becoming a man, but in the midst of the cacophony, he knows that the town is hiding something from him — something so awful Todd is forced to flee with only his dog, whose simple, loyal voice he hears too. With hostile men from the town in pursuit, the two stumble upon a strange and eerily silent creature: a girl. Who is she? Why wasn't she killed by the germ like all the females on New World? Propelled by Todd's gritty narration, readers are in for a white-knuckle journey in which a boy on the cusp of manhood must unlearn everything he knows in order to figure out who he truly is.
WHY? An all-male town? Now why does that sound familiar? Unlike Thomas, Todd's not running from monsters–he's running from people he's known all his life, and the horrific knowledge hidden behind the Noise. Continue reading →