So you want to start reading comics? It's a huge genre, and with graphic novels getting short listed for more and more of the prestigious awards in this country, it's not a surprise that they're becoming more respected. Books like Maus have been on high school reading lists for years.
We've compiled a list of our favorites for you to look into!
NIMONA by Noelle Stevenson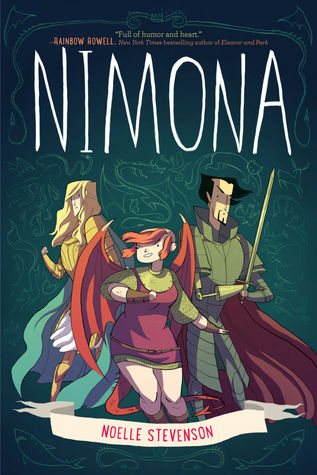 Nemeses! Dragons! Science! Symbolism! All these and more await in this brilliantly subversive, sharply irreverent epic from Noelle Stevenson. Featuring an exclusive epilogue not seen in the web comic, along with bonus conceptual sketches and revised pages throughout, this gorgeous full-color graphic novel is perfect for the legions of fans of the web comic and is sure to win Noelle many new ones.
Nimona is an impulsive young shapeshifter with a knack for villainy. Lord Ballister Blackheart is a villain with a vendetta. As sidekick and supervillain, Nimona and Lord Blackheart are about to wreak some serious havoc. Their mission: prove to the kingdom that Sir Ambrosius Goldenloin and his buddies at the Institution of Law Enforcement and Heroics aren't the heroes everyone thinks they are.
But as small acts of mischief escalate into a vicious battle, Lord Blackheart realizes that Nimona's powers are as murky and mysterious as her past. And her unpredictable wild side might be more dangerous than he is willing to admit.
Locke & Key tells of Keyhouse, an unlikely New England mansion, with fantastic doors that transform all who dare to walk through them. Home to a hate-filled and relentless creature that will not rest until it forces open the most terrible door of them all…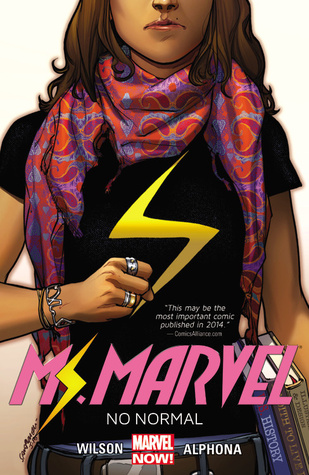 Kamala Khan is an ordinary girl from Jersey City — until she's suddenly empowered with extraordinary gifts. But who truly is the new Ms. Marvel? Teenager? Muslim? Inhuman? Find out as she takes the Marvel Universe by storm! When Kamala discovers the dangers of her newfound powers, she unlocks a secret behind them, as well. Is Kamala ready to wield these immense new gifts? Or will the weight of the legacy before her be too much to bear? Kamala has no idea, either. But she's comin' for you, Jersey!
IN REAL LIFE by Cory Doctorow and Jen Wang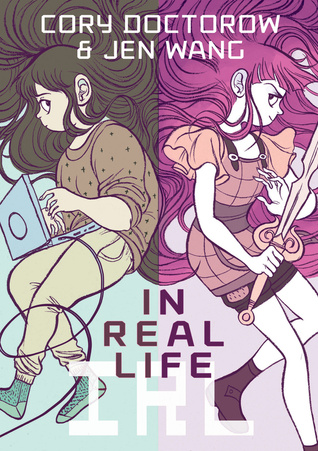 Anda loves Coarsegold Online, the massively-multiplayer role-playing game where she spends most of her free time. It's a place where she can be a leader, a fighter, a hero. It's a place where she can meet people from all over the world, and make friends.
But things become a lot more complicated when Anda befriends a gold farmer–a poor Chinese kid whose avatar in the game illegally collects valuable objects and then sells them to players from developed countries with money to burn. This behavior is strictly against the rules in Coarsegold, but Anda soon comes to realize that questions of right and wrong are a lot less straightforward when a real person's real livelihood is at stake.
"Remember, remember the fifth of November…"
A frightening and powerful tale of the loss of freedom and identity in a chillingly believable totalitarian world, V for Vendetta stands as one of the highest achievements of the comics medium and a defining work for creators Alan Moore and David Lloyd.
Set in an imagined future England that has given itself over to fascism, this groundbreaking story captures both the suffocating nature of life in an authoritarian police state and the redemptive power of the human spirit which rebels against it. Crafted with sterling clarity and intelligence, V for Vendettabrings an unequaled depth of characterization and verisimilitude to its unflinching account of oppression and resistance.

The talents responsible for some of Batman's greatest tales team up for the first time to bring readers Batman and Robin like they've never seen before, in this reinvention of these classic characters.
Every ninety years, twelve gods incarnate as humans. They are loved. They are hated. In two years, they are dead. But during this Recurrence, someone is murdering the gods early. Remember: just because you're immortal, doesn't mean you're going to live forever.
SAGA by Brian K. Vaughan and Fiona Staples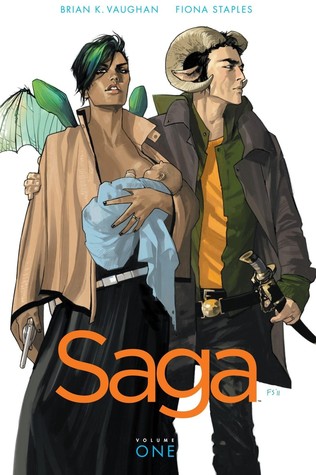 When two soldiers from opposite sides of a never-ending galactic war fall in love, they risk everything to bring a fragile new life into a dangerous old universe.
From bestselling writer Brian K. Vaughan, Saga is the sweeping tale of one young family fighting to find their place in the worlds. Fantasy and science fiction are wed like never before in this subversive drama