There are books that simply defy categorization.
Ever found a book you love, that won't fit neatly on the shelf? A science fiction-fantasy or paranormal alternate historical? They're sometimes known as genre-benders, but more often just called by all the genres they encompass.
Here's a compilation of some of our favorite genre-benders in our collection! They can be a hard-sell because they don't fit evenly in any particular category, but they're brilliant page-turners who deserve their chance in the sun.
Stephen King's fantasy masterpiece is a western cowboy post-apocalyptic scifi horror series that'll keep you turning pages through all seven books.
Beginning with a short story appearing in The Magazine of Fantasy and Science Fiction in 1978, the publication of Stephen King's epic work of fantasy — what he considers to be a single long novel and his magnum opus — has spanned a quarter of a century.
Set in a world of extraordinary circumstances, filled with stunning visual imagery and unforgettable characters, The Dark Tower series is King's most visionary feat of storytelling, a magical mix of science fiction, fantasy, and horror that may well be his crowning achievement.
Book I
In The Gunslinger (originally published in 1982), King introduces his most enigmatic hero, Roland Deschain of Gilead, the Last Gunslinger. He is a haunting, solitary figure at first, on a mysterious quest through a desolate world that eerily mirrors our own. Pursuing the man in black, an evil being who can bring the dead back to life, Roland is a good man who seems to leave nothing but death in his wake.
Born Wicked is the first in a alternate history fantasy romance series about sisters, revenge, and brutal magic. 
Everybody knows Cate Cahill and her sisters are eccentric. Too pretty, too reclusive, and far too educated for their own good. But the truth is even worse: they're witches. And if their secret is discovered by the priests of the Brotherhood, it would mean an asylum, a prison ship—or an early grave.
Before her mother died, Cate promised to protect her sisters. But with only six months left to choose between marriage and the Sisterhood, she might not be able to keep her word… especially after she finds her mother's diary, uncovering a secret that could spell her family's destruction. Desperate to find alternatives to their fate, Cate starts scouring banned books and questioning rebellious new friends, all while juggling tea parties, shocking marriage proposals, and a forbidden romance with the completely unsuitable Finn Belastra.
If what her mother wrote is true, the Cahill girls aren't safe. Not from the Brotherhood, the Sisterhood—not even from each other.
Jonathan Strange & Mr. Norrell is a slow-burning historical fiction with a touch of fantasy and widely considered to be a great classic.
Two magicians shall appear in England.
The first shall fear me; the second shall long to behold me…
The year is 1806. England is beleaguered by the long war with Napoleon, and centuries have passed since practical magicians faded into the nation's past. But scholars of this glorious history discover that one remains: the reclusive Mr Norrell whose displays of magic send a thrill through the country. Proceeding to London, he raises a beautiful woman from the dead and summons an army of ghostly ships to terrify the French.
Yet the cautious, fussy Norrell is challenged by the emergence of another magician: the brilliant novice Jonathan Strange. Young, handsome and daring, Strange is the very opposite of Norrell. So begins a dangerous battle between these two great men which overwhelms the one between England and France. And their own obsessions and secret dabblings with the dark arts are going to cause more trouble than they can imagine.
Afterworlds is a parallel universe metafiction fantasy with a romantic coming-of-age subplot.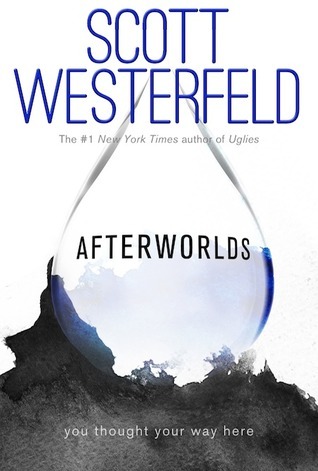 Darcy Patel has put college and everything else on hold to publish her teen novel, Afterworlds. Arriving in New York with no apartment or friends she wonders whether she's made the right decision until she falls in with a crowd of other seasoned and fledgling writers who take her under their wings…
Told in alternating chapters is Darcy's novel, a suspenseful thriller about Lizzie, a teen who slips into the 'Afterworld' to survive a terrorist attack. But the Afterworld is a place between the living and the dead and as Lizzie drifts between our world and that of the Afterworld, she discovers that many unsolved – and terrifying – stories need to be reconciled. And when a new threat resurfaces, Lizzie learns her special gifts may not be enough to protect those she loves and cares about most.
Zodiac is a political high fantasy meets science fiction space opera about a galaxy where the astrological signs are real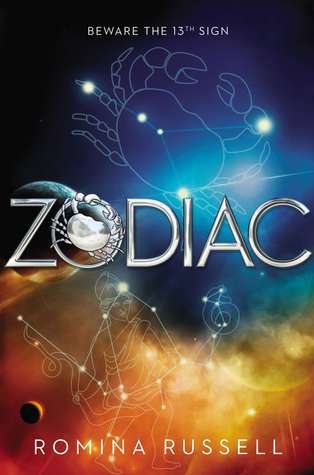 At the dawn of time, there were 13 Houses in the Zodiac Galaxy. Now only 12 remain….
Rhoma Grace is a 16-year-old student from House Cancer with an unusual way of reading the stars. While her classmates use measurements to make accurate astrological predictions, Rho can't solve for 'x' to save her life—so instead, she looks up at the night sky and makes up stories.
When a violent blast strikes the moons of Cancer, sending its ocean planet off-kilter and killing thousands of citizens—including its beloved Guardian—Rho is more surprised than anyone when she is named the House's new leader. But, a true Cancerian who loves her home fiercely and will protect her people no matter what, Rho accepts.
Then, when more Houses fall victim to freak weather catastrophes, Rho starts seeing a pattern in the stars. She suspects Ophiuchus—the exiled 13th Guardian of Zodiac legend—has returned to exact his revenge across the Galaxy. Now Rho—along with Hysan Dax, a young envoy from House Libra, and Mathias, her guide and a member of her Royal Guard—must travel through the Zodiac to warn the other Guardians.
But who will believe anything this young novice says? Whom can Rho trust in a universe defined by differences? And how can she convince twelve worlds to unite as one Zodiac?
Embark on a dazzling journey with ZODIAC, the first novel in an epic sci-fi-meets-high-fantasy series set in a galaxy inspired by the astrological signs.
The Bone Season is the first in a trilogy of futuristic dystopian science fiction paranormal adventure romances.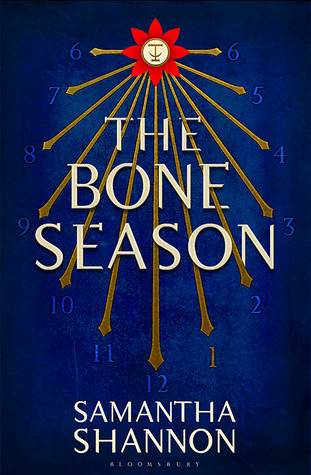 The year is 2059. Nineteen-year-old Paige Mahoney is working in the criminal underworld of Scion London, based at Seven Dials, employed by a man named Jaxon Hall. Her job: to scout for information by breaking into people's minds. For Paige is a dreamwalker, a clairvoyant and, in the world of Scion, she commits treason simply by breathing.
It is raining the day her life changes for ever. Attacked, drugged and kidnapped, Paige is transported to Oxford – a city kept secret for two hundred years, controlled by a powerful, otherworldly race. Paige is assigned to Warden, a Rephaite with mysterious motives. He is her master. Her trainer. Her natural enemy. But if Paige wants to regain her freedom she must allow herself to be nurtured in this prison where she is meant to die.
The Bone Season introduces a compelling heroine and also introduces an extraordinary young writer, with huge ambition and a teeming imagination. Samantha Shannon has created a bold new reality in this riveting debut. Continue reading →