Take a break from reality and fall into a fresh new world! Did you know reading for as little as 6 minutes can decrease your stress by as much as 66%?  Reading works better and faster than many other popular methods–listening to music, taking a walk, and drinking tea, just to name a few.
We've got some fantasies lined up that will help you break away from the stress of finals and immerse you worlds filled with poisons, thieves, and curses.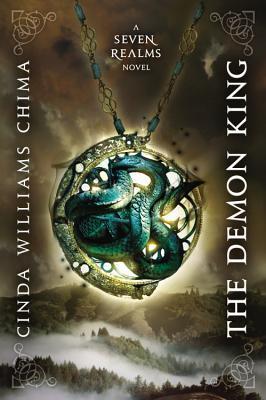 Times are hard in the mountain city of Fellsmarch. Reformed thief Han Alister will do almost anything to eke out a living for his family. The only thing of value he has is something he can't sell—the thick silver cuffs he's worn since birth. They're clearly magicked—as he grows, they grow, and he's never been able to get them off.
One day, Han and his clan friend, Dancer, confront three young wizards setting fire to the sacred mountain of Hanalea. Han takes an amulet from Micah Bayar, son of the High Wizard, to keep him from using it against them. Soon Han learns that the amulet has an evil history—it once belonged to the Demon King, the wizard who nearly destroyed the world a millennium ago. With a magical piece that powerful at stake, Han knows that the Bayars will stop at nothing to get it back.
Meanwhile, Raisa ana'Marianna, princess heir of the Fells, has her own battles to fight. She's just returned to court after three years of freedom in the mountains—riding, hunting, and working the famous clan markets. Raisa wants to be more than an ornament in a glittering cage. She aspires to be like Hanalea—the legendary warrior queen who killed the Demon King and saved the world. But her mother has other plans for her—including marriage to a suitor who goes against everything the queendom stands for.
The Seven Realms tremble when the lives of Hans and Raisa collide, fanning the flames of the smoldering war between clans and wizards.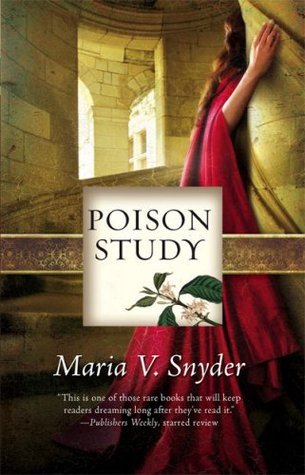 Choose: A quick death…Or slow poison…
About to be executed for murder, Yelena is offered an extraordinary reprieve. She'll eat the best meals, have rooms in the palace—and risk assassination by anyone trying to kill the Commander of Ixia.
And so Yelena chooses to become a food taster. But the chief of security, leaving nothing to chance, deliberately feeds her Butterfly's Dust—and only by appearing for her daily antidote will she delay an agonizing death from the poison.
As Yelena tries to escape her new dilemma, disasters keep mounting. Rebels plot to seize Ixia and Yelena develops magical powers she can't control. Her life is threatened again and choices must be made. But this time the outcomes aren't so clear…
No one wanted Ai Ling. And deep down she is relieved—despite the dishonor she has brought upon her family—to be unbetrothed and free, not some stranger's subservient bride banished to the inner quarters.
But now, something is after her. Something terrifying—a force she cannot comprehend. And as pieces of the puzzle start to fit together, Ai Ling begins to understand that her journey to the Palace of Fragrant Dreams isn't only a quest to find her beloved father but a venture with stakes larger than she could have imagined.
Bravery, intelligence, the will to fight and fight hard . . . she will need all of these things. Just as she will need the new and mysterious power growing within her. She will also need help.
It is Chen Yong who finds her partly submerged and barely breathing at the edge of a deep lake. There is something of unspeakable evil trying to drag her under. On a quest of his own, Chen Yong offers that help . . . and perhaps more.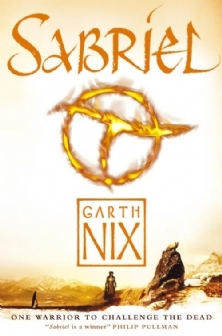 Sent to a boarding school in Ancelstierre as a young child, Sabriel has had little experience with the random power of Free Magic or the Dead who refuse to stay dead in the Old Kingdom. But during her final semester, her father, the Abhorsen, goes missing, and Sabriel knows she must enter the Old Kingdom to find him.
With Sabriel, the first installment in the Abhorsen trilogy, Garth Nix exploded onto the fantasy scene as a rising star, in a novel that takes readers to a world where the line between the living and the dead isn't always clear—and sometimes disappears altogether.
At the age of nine, Finnikin is warned by the gods that he must sacrifice a pound of flesh to save his kingdom. He stands on the rock of the three wonders with his friend Prince Balthazar and Balthazar's cousin, Lucian, and together they mix their blood to safeguard Lumatere.
But all safety is shattered during the five days of the unspeakable, when the king and queen and their children are brutally murdered in the palace. An impostor seizes the throne, a curse binds all who remain inside Lumatere's walls, and those who escape are left to roam the land as exiles, dying by the thousands in fever camps.
Ten years later, Finnikin is summoned to another rock–to meet Evanjalin, a young novice with a startling claim: Balthazar, heir to the throne of Lumatere, is alive. This arrogant young woman claims she'll lead Finnikin and his mentor, Sir Topher, to the prince. Instead, her leadership points them perilously toward home. Does Finnikin dare believe that Lumatere might one day rise united? Evanjalin is not what she seems, and the startling truth will test Finnikin's faith not only in her but in all he knows to be true about himself and his destiny.
In a bold departure from her acclaimed contemporary novels, Printz Medalist Melina Marchetta has crafted an epic fantasy of ancient magic, feudal intrigue, romance, and bloodshed that will rivet you from the first page.
Passion. Fate. Loyalty.
Would you risk it all to change your destiny?
The last thing Kelsey Hayes thought she'd be doing this summer was trying to break a 300-year-old Indian curse. With a mysterious white tiger named Ren. Halfway around the world. But that's exactly what happened. Face-to-face with dark forces, spellbinding magic, and mystical worlds where nothing is what it seems, Kelsey risks everything to piece together an ancient prophecy that could break the curse forever.
Tiger's Curse is the exciting first volume in an epic fantasy-romance that will leave you breathless and yearning for more.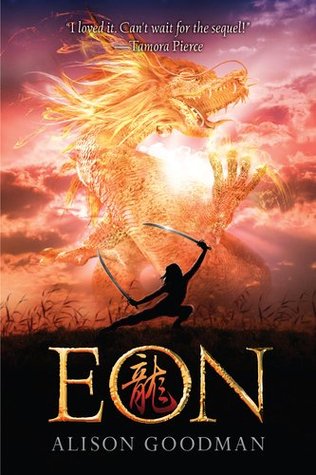 Swordplay, dragon magic–and a hero with a desperate secret.
Twelve-year-old Eon has been in training for years. His intensive study of Dragon Magic,, based on East Asian astrology, involves two kinds of skills: sword-work and magical aptitude. He and his master hope that he will be chosen as a Dragoneye–an apprentice to one of the twelve energy dragons of good fortune.
But Eon has a dangerous secret. He is actually Eona, a sixteen-year-old girl who has been masquerading as a boy for the chance to become a Dragoneye. Females are forbidden to use Dragon Magic; if anyone discovers she has been hiding in plain sight, her death is assured.
When Eon's secret threatens to come to light, she and her allies are plunged into grave danger and a deadly struggle for the Imperial throne. Eon must find the strength and inner power to battle those who want to take her magic…and her life.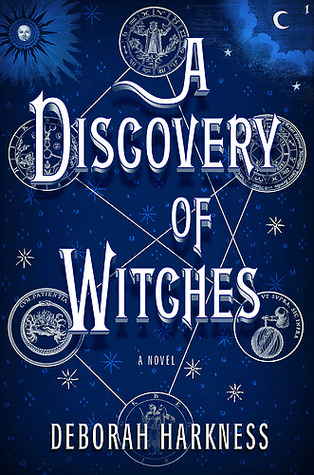 A richly inventive novel about a centuries-old vampire, a spellbound witch, and the mysterious manuscript that draws them together.
Deep in the stacks of Oxford's Bodleian Library, young scholar Diana Bishop unwittingly calls up a bewitched alchemical manuscript in the course of her research. Descended from an old and distinguished line of witches, Diana wants nothing to do with sorcery; so after a furtive glance and a few notes, she banishes the book to the stacks. But her discovery sets a fantastical underworld stirring, and a horde of daemons, witches, and vampires soon descends upon the library. Diana has stumbled upon a coveted treasure lost for centuries-and she is the only creature who can break its spell.
Debut novelist Deborah Harkness has crafted a mesmerizing and addictive read, equal parts history and magic, romance and suspense. Diana is a bold heroine who meets her equal in vampire geneticist Matthew Clairmont, and gradually warms up to him as their alliance deepens into an intimacy that violates age-old taboos. This smart, sophisticated story harks back to the novels of Anne Rice, but it is as contemporary and sensual as the Twilight series-with an extra serving of historical realism.
Ged, the greatest sorcerer in all Earthsea, was called Sparrowhawk in his reckless youth.
Hungry for power and knowledge, Sparrowhawk tampered with long-held secrets and loosed a terrible shadow upon the world. This is the tale of his testing, how he mastered the mighty words of power, tamed an ancient dragon, and crossed death's threshold to restore the balance.
Sadima lives in a world where magic has been banned, leaving poor villagers prey to fakes and charlatans. A "magician" stole her family's few valuables and left Sadima's mother to die on the day Sadima was born. But vestiges of magic are hidden in old rhymes and hearth tales and in people like Sadima, who conceals her silent communication with animals for fear of rejection and ridicule. When rumors of her gift reach Somiss, a young nobleman obsessed with restoring magic, he sends Franklin, his lifelong servant, to find her. Sadima's joy at sharing her secret becomes love for the man she shares it with. But Franklin's irrevocable bond to the brilliant and dangerous Somiss traps her, too, and she faces a heartbreaking decision.Centuries later magic has been restored, but it is available only to the wealthy and is strictly controlled by wizards within a sequestered academy of magic. Hahp, the expendable second son of a rich merchant, is forced into the academy and finds himself paired with Gerrard, a peasant boy inexplicably admitted with nine sons of privilege and wealth. Only one of the ten students will graduate — and the first academic requirement is survival.
Sadima's and Hahp's worlds are separated by generations, but their lives are connected in surprising and powerful ways in this brilliant first book of Kathleen Duey's dark, complex, and completely compelling trilogy.
At fourteen, Nick Gautier thinks he knows everything about the world around him. Streetwise, tough and savvy, his quick sarcasm is the stuff of legends. . .until the night when his best friends try to kill him. Saved by a mysterious warrior who has more fighting skills than Chuck Norris, Nick is sucked into the realm of the Dark-Hunters: immortal vampire slayers who risk everything to save humanity.
Nick quickly learns that the human world is only a veil for a much larger and more dangerous one: a world where the captain of the football team is a werewolf and the girl he has a crush on goes out at night to stake the undead.
But before he can even learn the rules of this new world, his fellow students are turning into flesh eating zombies. And he's next on the menu.
As if starting high school isn't hard enough. . .now Nick has to hide his new friends from his mom, his chainsaw from the principal, and keep the zombies and the demon Simi from eating his brains, all without getting grounded or suspended. How in the world is he supposed to do that?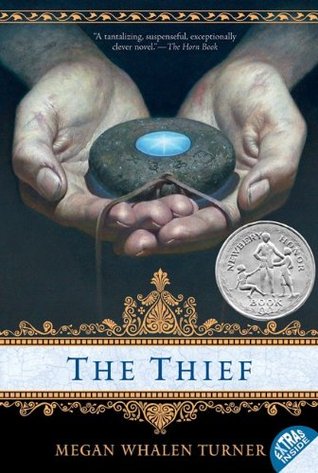 The king's scholar, the magus, believes he knows the site of an ancient treasure. To attain it for his king, he needs a skillful thief, and he selects Gen from the king's prison. The magus is interested only in the thief's abilities.
What Gen is interested in is anyone's guess. Their journey toward the treasure is both dangerous and difficult, lightened only imperceptibly by the tales they tell of the old gods and goddesses.
It began with the chiming of the tiny copper bell on the mantel, warning them someone was passing the ward stone her mother had placed on the path to their house …
One terrible day, Makenna, a young hedgewitch, witnesses her mother's murder at the hands of their own neighbors. Striken with grief and rage, Makenna flees the village that has been her home. In the wilds of the forest, she forms an unexpected alliance. Leading an army of clever goblins, Makenna skillfully attacks the humans, now their shared enemy.
What she doesn't realize is that the ruling Hierarchy is determined to rid the land of all magical creatures, and they believe Makenna is their ultimate threat – so they have sent a young knight named Tobin into the Goblin Wood to entrap her.
In this captivating fantasy adventure, the difference between Bright and Dark magic is as deceptive as our memories, hopes, and fears — and the light of loyalty and friendship has a magic all of its own.
A young Hedgewitch, an idealistic knight, and an army of clever goblins fight against the ruling hierarchy that is trying to rid the land of all magical creatures.