Can you believe it's already November? The semester's halfway over! The leaves have fallen off the trees and winter is on its way. Which means it's time to curl up with a good book and a cup of tea!
You were voracious readers this October, but here are your favorite books:
10. Nimona by Noelle Stevenson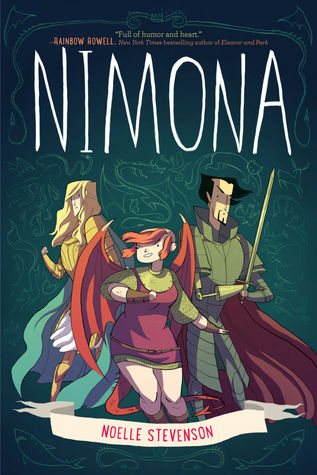 Nemeses! Dragons! Science! Symbolism! All these and more await in this brilliantly subversive, sharply irreverent epic from Noelle Stevenson. Featuring an exclusive epilogue not seen in the web comic, along with bonus conceptual sketches and revised pages throughout, this gorgeous full-color graphic novel is perfect for the legions of fans of the web comic and is sure to win Noelle many new ones.
Nimona is an impulsive young shapeshifter with a knack for villainy. Lord Ballister Blackheart is a villain with a vendetta. As sidekick and supervillain, Nimona and Lord Blackheart are about to wreak some serious havoc. Their mission: prove to the kingdom that Sir Ambrosius Goldenloin and his buddies at the Institution of Law Enforcement and Heroics aren't the heroes everyone thinks they are.
But as small acts of mischief escalate into a vicious battle, Lord Blackheart realizes that Nimona's powers are as murky and mysterious as her past. And her unpredictable wild side might be more dangerous than he is willing to admit.
"Miss Rook, I am not an occultist," Jackaby said. "I have a gift that allows me to see truth where others see the illusion–and there are many illusions. All the world's a stage, as they say, and I seem to have the only seat in the house with a view behind the curtain."
Newly arrived in New Fiddleham, New England, 1892, and in need of a job, Abigail Rook meets R. F. Jackaby, an investigator of the unexplained with a keen eye for the extraordinary–including the ability to see supernatural beings. Abigail has a gift for noticing ordinary but important details, which makes her perfect for the position of Jackaby's assistant. On her first day, Abigail finds herself in the midst of a thrilling case: A serial killer is on the loose. The police are convinced it's an ordinary villain, but Jackaby is certain it's a nonhuman creature, whose existence the police–with the exception of a handsome young detective named Charlie Cane–deny.
Doctor Who meets Sherlock in William Ritter's debut novel, which features a detective of the paranormal as seen through the eyes of his adventurous and intelligent assistant in a tale brimming with cheeky humor and a dose of the macabre. Continue reading →