We've pulled titles of war stories–both modern and historical. No World War IIIs or fallen Americas, these novels fall under the headings of realistic fiction. So fall into the jungles of Vietnam and the fields of France and join these amazing soldier stories.
A coming-of-age tale for young adults set in the trenches of the Vietnam War in the late 1960s, this is the story of Perry, a Harlem teenager who volunteers for the service when his dream of attending college falls through. Sent to the front lines, Perry and his platoon come face-to-face with the Vietcong and the real horror of warfare. But violence and death aren't the only hardships. As Perry struggles to find virtue in himself and his comrades, he questions why black troops are given the most dangerous assignments, and why the U.S. is there at all.
When Private Matt Duffy wakes up in an army hospital in Iraq, he's honored with a Purple Heart. But he doesn't feel like a hero.
There's a memory that haunts him: an image of a young Iraqi boy as a bullet hits his chest. Matt can't shake the feeling that he was somehow involved in his death. But because of a head injury he sustained just moments after the boy was shot, Matt can't quite put all the pieces together.
Eventually Matt is sent back into combat with his squad—Justin, Wolf, and Charlene—the soldiers who have become his family during his time in Iraq. He just wants to go back to being the soldier he once was. But he sees potential threats everywhere and lives in fear of not being able to pull the trigger when the time comes. In combat there is no black-and-white, and Matt soon discovers that the notion of who is guilty is very complicated indeed.
National Book Award Finalist Patricia McCormick has written a visceral and compelling portrait of life in a war zone, where loyalty is valued above all, and death is terrifyingly commonplace.
Rick Ward wants to go to war.
He doesn't know why. Maybe he's running from his dad, who has an uncontrollable temper. Maybe he's running from a lost love, his high-school sweetheart, who is a stranger to him now. Or maybe he's just running — to find himself
Desperate to experience real life, Rick enlists in the army with the Charlie Rangers, a special unit in Vietnam. They infiltrate the jungle, kill with precision, and get out quickly. Rick isn't sure he can shoot anyone, but he wants to be tested, like his heroes, Hemingway and Conrad. If he can see the heart of darkness and survive, he'll be a man — and finally have something to write about.
But as Rick discovers, war isn't what anyone — either the protestors, the politicians, or the writers — say it is. It's far bigger, scarier, and more complicated than anything he could ever have imagined.
Dean Hughes captures the sights and sounds of war — and the courage of a young soldier fighting to survive.
This was no ordinary war. This was a war to make the world safe for democracy. And if democracy was made safe, then nothing else mattered–not the millions of dead bodies, nor the thousands of ruined lives…This is no ordinary novel. This is a novel that never takes the easy way out: it is shocking, violent, terrifying, horrible, uncompromising, brutal, remorseless and gruesome…but so is war.
Winner of the National Book Award
When fourteen-year-old Jacob is brutally abducted and forced to become a child soldier, he struggles to hold on to his sanity and the will to escape.
Daniel Lafrance's striking artwork and the poignant, powerful text capture the very essence of life as a child soldier. Readers will never forget the experiences of this young boy struggling to survive, unsure who to trust, afraid of succumbing to madness, and above all, desperate to get to freedom. In the end, Jacob engineers a daring escape.
This graphic novel is based on the acclaimed novel of the same title, winner of a 2009 Arthur Ellis award. The author spent time in Uganda and based this story on real-life accounts of the horrors inflicted on child soldiers and their victims. This is a story of unthinkable violence, but also one of hope, courage, friendship, and family.
Birdsong by Sebastian Faulks
A novel of overwhelming emotional power, Birdsong is a story of love, death, sex and survival. Stephen Wraysford, a young Englishman, arrives in Amiens in northern France in 1910 to stay with the Azaire family, and falls in love with unhappily married Isabelle. But, with the world on the brink of war, the relationship falters, and Stephen volunteers to fight on the Western Front. His love for Isabelle forever engraved on his heart, he experiences the unprecedented horrors of that conflict — from which neither he nor any reader of this book can emerge unchanged.
Catch-22 by Joseph Heller
At the heart of Catch-22 resides the incomparable, malingering bombardier, Yossarian, a hero endlessly inventive in his schemes to save his skin from the horrible chances of war.
His problem is Colonel Cathcart, who keeps raising the number of missions the men must fly to complete their service. Yet if Yossarian makes any attempts to excuse himself from the perilous missions that he's committed to flying, he's trapped by the Great Loyalty Oath Crusade, the bureaucratic rule from which the book takes its title: a man is considered insane if he willingly continues to fly dangerous combat missions, but if he makes the necessary formal request to be relieved of such missions, the very act of making the request proves that he's sane and therefore ineligible to be relieved.
In 1918 Ernest Hemingway went to war, to the 'war to end all wars'. He volunteered for ambulance service in Italy, was wounded and twice decorated. Out of his experiences came A Farewell to Arms. Hemingway's description of war is unforgettable. He recreates the fear, the comradeship, the courage of his young American volunteer and the men and women he meets in Italy with total conviction. But A Farewell to Arms is not only a novel of war. In it Hemingway has also created a love story of immense drama and uncompromising passion.
Gone with the Wind is a novel written by Margaret Mitchell, 1st published in 1936. The story is set in Clayton County, GA, & Atlanta during the American Civil War & Reconstruction era. It depicts the experiences of Scarlett O'Hara, the spoiled daughter of a well-to-do plantation owner, who must use every means at her disposal to come out of the poverty she finds herself in after Sherman's March to the Sea. A historical novel, the story is a Bildungsroman or coming-of-age story, with the title taken from a poem written by Ernest Dowson. Gone with the Wind was popular with American readers from the onset & was the top American fiction bestseller in the year it was published & in 1937. As of 2014, a Harris poll found it to be the 2nd favorite book by American readers, just behind the Bible.
In the four most bloody and courageous days of our nation's history, two armies fought for two dreams. One dreamed of freedom, the other of a way of life. Far more than rifles and bullets were carried into battle. There were memories. There were promises. There was love. And far more than men fell on those Pennsylvania fields. Shattered futures, forgotten innocence, and crippled beauty were also the casualties of war. The Killer Angels is unique, sweeping, unforgettable—a dramatic re-creation of the battleground for America's destiny.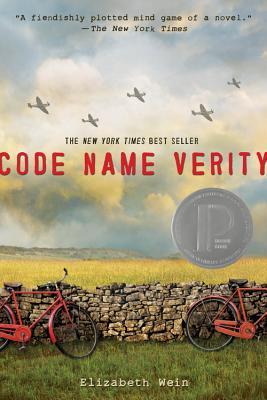 Oct. 11th, 1943-A British spy plane crashes in Nazi-occupied France. Its pilot and passenger are best friends. One of the girls has a chance at survival. The other has lost the game before it's barely begun.
When "Verity" is arrested by the Gestapo, she's sure she doesn't stand a chance. As a secret agent captured in enemy territory, she's living a spy's worst nightmare. Her Nazi interrogators give her a simple choice: reveal her mission or face a grisly execution.
As she intricately weaves her confession, Verity uncovers her past, how she became friends with the pilot Maddie, and why she left Maddie in the wrecked fuselage of their plane. On each new scrap of paper, Verity battles for her life, confronting her views on courage, failure and her desperate hope to make it home. But will trading her secrets be enough to save her from the enemy?
A Michael L. Printz Award Honor book that was called "a fiendishly-plotted mind game of a novel" in The New York Times, Code Name Verityis a visceral read of danger, resolve, and survival that shows just how far true friends will go to save each other.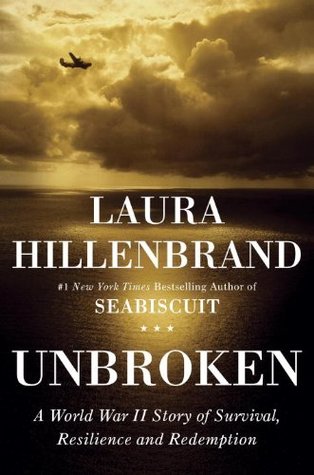 On a May afternoon in 1943, an Army Air Forces bomber crashed into the Pacific Ocean and disappeared, leaving only a spray of debris and a slick of oil, gasoline, and blood. Then, on the ocean surface, a face appeared. It was that of a young lieutenant, the plane's bombardier, who was struggling to a life raft and pulling himself aboard. So began one of the most extraordinary odysseys of the Second World War.
The lieutenant's name was Louis Zamperini. In boyhood, he'd been a cunning and incorrigible delinquent, breaking into houses, brawling, and fleeing his home to ride the rails. As a teenager, he had channeled his defiance into running, discovering a prodigious talent that had carried him to the Berlin Olympics and within sight of the four-minute mile. But when war had come, the athlete had become an airman, embarking on a journey that led to his doomed flight, a tiny raft, and a drift into the unknown.
Ahead of Zamperini lay thousands of miles of open ocean, leaping sharks, a foundering raft, thirst and starvation, enemy aircraft, and, beyond, a trial even greater. Driven to the limits of endurance, Zamperini would answer desperation with ingenuity; suffering with hope, resolve, and humor; brutality with rebellion. His fate, whether triumph or tragedy, would be suspended on the fraying wire of his will.
In her long-awaited new book, Laura Hillenbrand writes with the same rich and vivid narrative voice she displayed in Seabiscuit. Telling an unforgettable story of a man's journey into extremity, Unbroken is a testament to the resilience of the human mind, body, and spirit.
They came together, citizen soldiers, in the summer of 1942, drawn to Airborne by the $50 monthly bonus and a desire to be better than the other guy. And at its peak — in Holland and the Ardennes — Easy Company, 506th Parachute Infantry Regiment, 101st Airborne Divison, U.S. Army, was as good a rifle company as any in the world.
From the rigorous training in Georgia in 1942 to the disbanding in 1945, Stephen Ambrose tells the story of this remarkable company. In combat, the reward for a job well done is the next tough assignment, and as they advanced through Europe, the men of Easy kept getting the tough assignments.
They parachuted into France early D-Day morning and knocked out a battery of four 105 mm cannon looking down Utah Beach; they parachuted into Holland during the Arnhem campaign; they were the Battered Bastards of the Bastion of Bastogne, brought in to hold the line, although surrounded, in the Battle of the Bulge; and then they spearheaded the counteroffensive. Finally, they captured Hitler's Bavarian outpost, his Eagle's Nest at Berchtesgaden.
They were rough-and-ready guys, battered by the Depression, mistrustful and suspicious. They drank too much French wine, looted too many German cameras and watches, and fought too often with other GIs. But in training and combat they learned selflessness and found the closest brotherhood they ever knew. They discovered that in war, men who loved life would give their lives for them.
This is the story of the men who fought, of the martinet they hated who trained them well, and of the captain they loved who led them. E Company was a company of men who went hungry, froze, and died for each other, a company that took 150 percent casualties, a company where the Purple Heart was not a medal — it was a badge of office.
On October 3, 1993, about a hundred U.S. soldiers were dropped by helicopter into a teeming market in the heart of Mogadishu, Somalia, to abduct two top lieutenants of a Somali warlord. The action was supposed to take an hour. Instead, they spent a long and terrible night fighting thousands of armed Somalis. By morning, eighteen Americans were dead, and more than seventy badly injured. Mark Bowden's gripping narrative is one of the most exciting accounts of modern war ever written–a riveting story that captures the heroism, courage and brutality of battle.